Pidyon Shvuyim, Redeeming the Captive: Human Rights Shabbat, December 5, 2014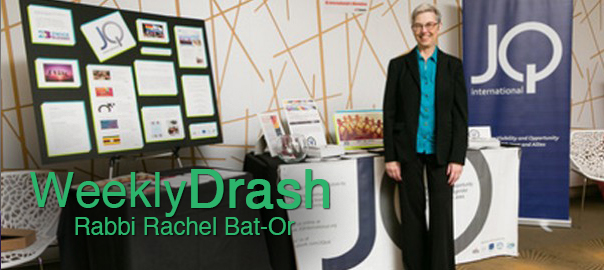 By: Rabbi Rachel Bat-Or
These two emails came to the JQ Warmline, the first in February, the second in September.
Max lives in a small city near Odessa, Ukraine. He wrote, "I have to be in the closet … Gays should not come out here. My ex, he is also Jewish gay, did not conceal he was a gay and people started to throw stones into his windows. He had to move to another apartment and then to a different city many kilometers away … It happened about seven years ago but still the situation didn't change a lot, maybe even for worse. I feel completely trapped."
Adel lives in northern Algeria. He said, "I'm in very bad and serious condition. It has been 52 days that I did not leave the house because of a threat by Islamists. I'm 37 and I have 3 months without work because I'm gay. I live with my family who threaten to call the authorities. The penal code of my country puts gays in prison for 2 to 5 years. Please get me out of my country."
Max and Adel are shvuyim, captives.
Max is held captive by the hostility and violence of the people around him. He is not in immediate danger but only because he stays in the closet. He still has to watch everything he says.
Adel is held captive by the Algerian government, by the Islamists, and by his family. I'm trying to get Adel out of Algeria but it's extremely difficult to find an agency that is able to help. All the people I've talked with want to help but don't have the resources or contacts they need in his country.
Pidyon shvuyim, redeeming the captive, is one of our greatest mitzvot. According to Rambam, a 12th century commentator from Spain, it's even more important than caring for the poor and needy.
There are many thousands of LGBT people in all parts of the world who are being held captive and need to be redeemed.
According to the United Nations Human Rights Commission, seventy-seven countries have discriminatory laws against LGBT people. According to these laws, they are at risk of arrest, prosecution, imprisonment, and, in at least five countries, the death penalty.
Even for the countries without these discriminatory laws, we know there is violence against us. In fact, the Southern Poverty Law Center in Alabama says LGBT people are far more likely than any other minority group in the United Statesm to be victimized by a violent hate crime.
Tonight is the seventh annual Human Rights Shabbat. It was established by T'ruah, the Rabbinic Call for Human Rights, as a pledge to bring the values of human dignity, k'vod habriot, and commitment to b'tzelem Elohim, acting in the image of God, into our synagogues, schools, homes, communities, and world. T'ruah understands that there is a clear intersection between Jewish values and universal human rights.
Prophetic Judaism supplies the values. And the United Nations supplies the Declaration of Universal Human Rights. It was written in 1945 and adopted three years later.
It recognizes the inherent dignity, equality, and inalienable rights of all members of the human family to have freedom, justice, and peace in the world regardless of race, color, sex, language, religion, political or other opinion, national or social origin, property, birth, or other status. This Declaration was the international community saying, Never Again.
It's not surprising that sexual orientation and gender identity were not included in this "regardless of" list. In 1945 we were invisible as a group deserving human rights.
And now 66 years later, the best we've gotten from the Human Rights Commission is a 2011 report expressing "grave concern" about this issue and a resolution passed this September requesting "good practices and ways to overcome [LGBT] violence and discrimination." We can only hope it doesn't take another 66 years before they amend the Declaration itself and we're included in it.
Earlier I mentioned the mitzvot of pidyon shvuyim, redeeming those held captive by others.
There's another kind of captivity that most of us experienced as we grew up. We were held captive to someone else's expectations of who we were supposed to be. Sometimes that captivity came with violence and cruelty, sometimes with indifference, and other times with overwhelming guilt and shame. Because of that, most of us internalized those expectations even when we fought against them.
Today we are no longer being held captive by someone else. We have created our lives authentically, proudly, freely. And we celebrate that.
And still, I know for me, I carry pieces of that captor inside of me. In May I stood in front of 600 people, mostly Federation donors, when I launched the JQ Warmline, and said, "I'm a rabbi, a psychotherapist, and a lesbian." A part of me held my breath and waited for the outcry to begin. It wasn't a major part of me, but it was still there.
That's the captor in my head. I imagine some of you also have that captor, have a piece of self-judgment, maybe even shame and embarrassment, about being different, not fitting in to what is seen as normal.
We have to redeem ourselves from that inner captor, to see ourselves as who we really were growing up and who we are today. We have to redeem ourselves so those messages no longer live inside of us.
Here are three ways we can do. Any one of them will help. All three will help that much more.
The first is based on the concept Adam l'Makom, the practice of looking at our relationship with God, however we understand that. If we have a spiritual practice for ourselves, our inner captor becomes more quiet and has less of a hold on us. A practice could be saying a prayer before getting out of bed in the morning or before going to sleep at night. Writing down three things we're grateful for each day. Thanking at least two people during the day for being in our lives. There is no one size fits all in spiritual practices. But when we have one, we can connect with something greater than ourselves and see our lives more clearly.
The second way we can do this is based on the concept Adam l'Heveiro, looking at our relationships with our family, friends, co-workers, and others in our lives. We can find the ways to do mitzvot for them. Making meals, driving them where they need to go, opening a door for someone whose hands are full, simply smiling and saying hi to a stranger. These acts are very simple and mean so much to the people we do them for. And as with a spiritual practice, they take us outside of ourselves and help us become more aware of all that we have and all that we can offer others.
We can also act for those who can't redeem themselves, especially if they are being held captive to poverty, homelessness, and violence. If anyone wants to help me look for a way to get Adel out of Algeria, please see me after the service.
And the last way we can redeem ourselves is based on the concept of Adam l'Atzmo, looking at our relationship with ourselves. There are two things we can do.
First we have to take the power away from the messages we were given that there was something wrong with us. This isn't easy. Most of us don't want to remember those messages especially when we still hear them today. But we have to understand why they captured us so powerfully. When we can do that, we are less likely to continue believing them, more likely to redeem ourselves from that captor in our head.
And second we have to examine our lives as they are right now. To feel proud of who we've become, proud to be part of this community. The more we can feel the reality of our lives today, the less power the messages have over us.
By doing these things we are redeeming ourselves and others from being captives. These acts require that we become more vulnerable, more committed to telling ourselves and others the truth about us, more willing to move out of our comfort zone.
One of my favorite verses in the psalms is from Psalm 145: Karov HaShem l'chol korav, l'chol asher yikra'uho ve'emet, God draws close to all who call to Him, to all who call to Him in Truth. The more we tell ourselves the truth, the more we redeem ourselves from the lies we were toldm the more we become the people we were meant to be.
Thank you and Shabbat Shalom.