Pride 2017 With BCC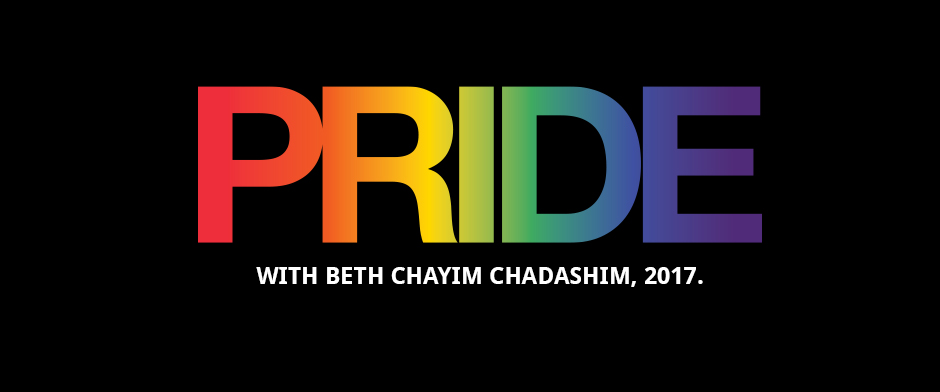 BCC Family and friends, Please join us for PRIDE weekend!
Thursday, June 8: Interfaith Service, 6pm.
Friday, June 9: PRIDE Shabbat Services, 8pm.
Sunday, June 11: Resist March, 8am.
FULL EVENTS SCHEDULE
JUNE 8
Join Rabbi Lisa Edwards & Rabbi Heather Miller for an Interfaith Pride Service: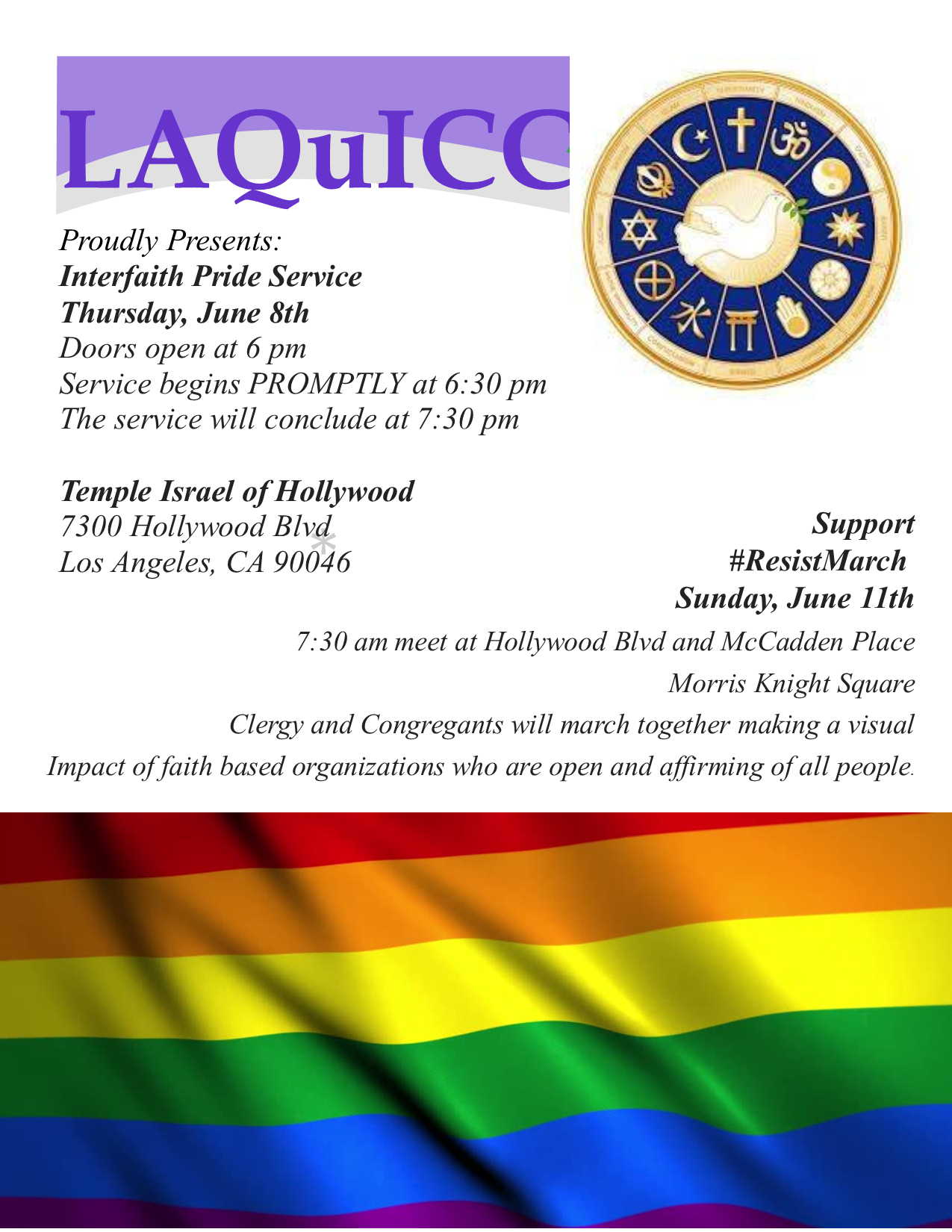 JUNE 9
Vegan Pride Shabbat Dinner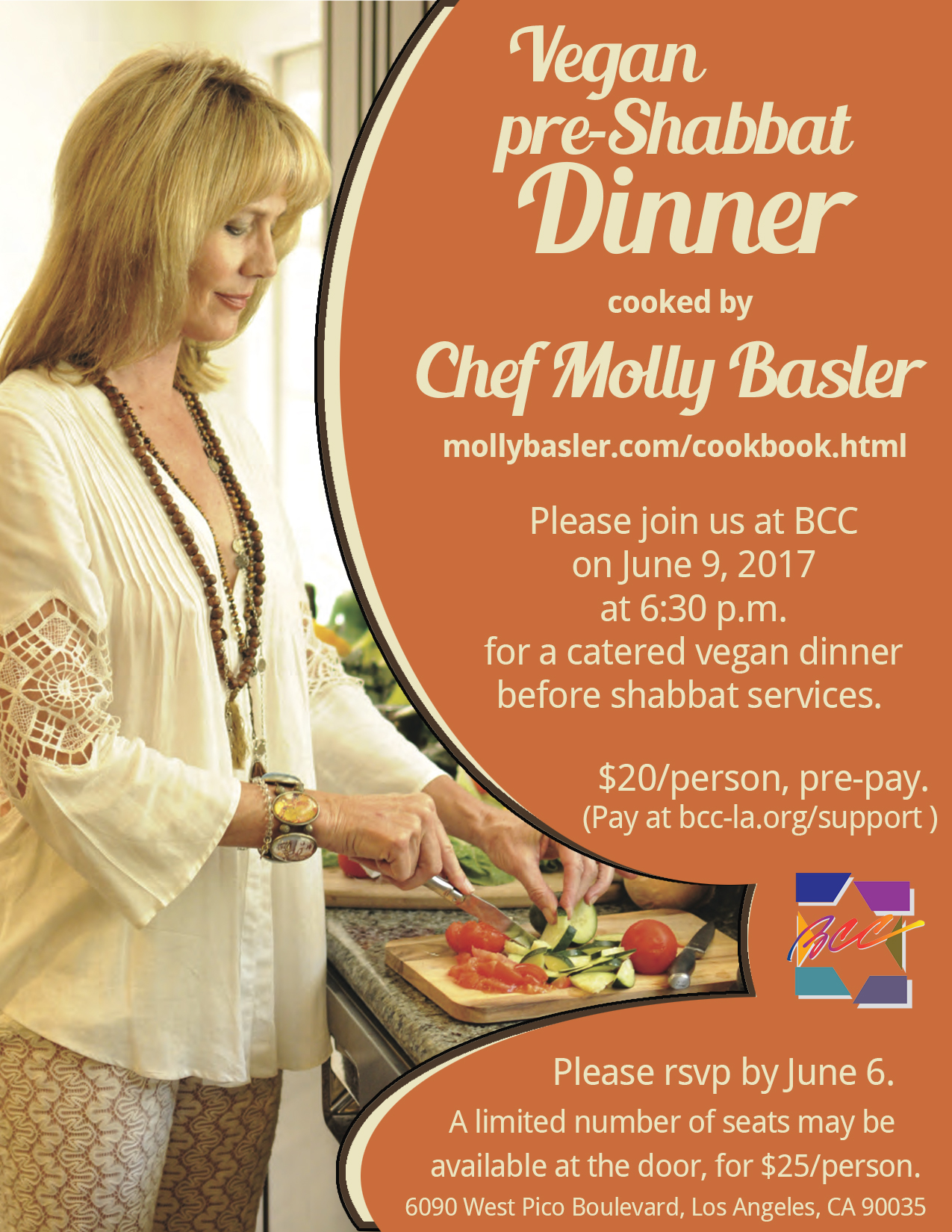 PRIDE Shabbat Services
Kick-off PRIDE Resistance with the whole BCC family at our Annual PRIDE Shabbat Service. There will be singing, prayers and noshing. Join Rabbi Lisa Edwards, Rabbi Heather Miller and song leader Leah Zimmerman for a special evening of Shabbat worship. Director of Education, Leah Zimmerman will, in addition, give the drash and bid BCC a farewell. Our PRIDE Shabbat evening is followed by an hour of socializing and making new friends. Refreshments are sponsored by Brett Trueman & Mark Miller in honor of Pride & Resistance! Gordon Blitz is also sponsoring the oneg in honor of his husband, Neal Wiener's birthday! If you are new to our shul, you will not want to miss PRIDE Shabbat at BCC!
JUNE 11
Resist Narch
7:30 am meet Senior Rabbi Lisa Edwards and Rabbi Heather Miller at Hollywood Blvd and McCadden Place (Morris Kight Square). Clergy and Congregants will march together making a visual Impact of faith based organizations who are open and affirming of all people. We will march from Hollywood, where LA Pride was born in 1970, to West Hollywood, where LA Pride grew up. Instead of a parade celebrating our past progress, we are requesting that our entire LGBTQ+ community and its allies march to ensure our collective futures.
Our march will be taking place in solidarity with, and on the same day as, the National Equality March for Unity and Pride in Washington DC. The LGBTQ community in Los Angeles simply felt that in 2017 we need to return to our roots and protest so that those who would roll back our hard won human rights are put on notice that we will not stand idly by. This is the founding premise of Christopher Street West. This march is for those who believe that America's strength is its diversity. This is not a Democratic or Republican march. It is not a red or blue march. This is a red, white and blue march meant for anyone who cares about human rights. This Sunday our unique, diverse, inter-sectional voices will come together in one harmonized voice.