PRIDE Weekend Activities at BCC: June 6-8, 2014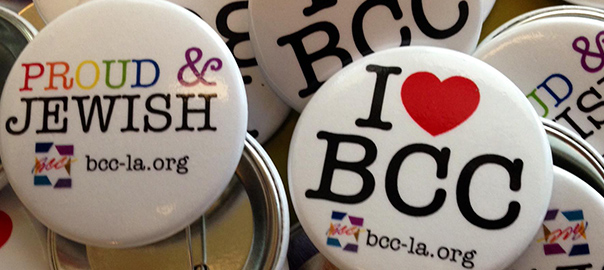 Friday, June 6 at 8pm: PRIDE Shabbat Services at BCC. Join us at BCC to kick off PRIDE Weekend! There will be an Aufruf for Harris Halpern and Howard Hamburger, who will be sponsoring the Oneg in honor of their wedding. Gordon Blitz will also be sponsoring the Oneg in honor of the 70th birthday of his husband, Neal Wiener.
For our friends outside Los Angeles: Friday Shabbat Services will be live streamed. After services join us for Oneg refreshments. Click the "Worship" tab above, on the roll down menu choose "BCC Live Video & Audio" to view the stream. Find out how you can participate in the service from your computer at home!
Saturday, June 7th at 11:30am: END OF YEAR CELEBRATION (Instead of the Pool Party). All BCC Families are invited to join us for an end of year Potluck lunch. RSVP to leah@bcc-la.org if you are a yes, no or maybe!
Saturday, June 7th at 12-6pm: Annual Dyke Day LA at Barnsdall Art Park (4800 Hollywood Blvd, just west of Vermont). ONE Archives Invites All Dykes, Divas, Ladies, Lesbians and Fans. Visit Tracy Moore at the ONE Archives Table; Sit for a while and chat; Bring a photograph of your life (and any other mementos) to be saved forever in the Dyke Day 2014 Archives at ONE!
Dyke Day L.A. is a non-profit day in the park for all self-identified dykes and allies, including gay families, transgender dykes, and dykes of all ages. The mission of Dyke Day L.A. is to create an inclusive space that brings together the past, present, and future of our Los Angeles dyke communities. This day in the park takes place the Saturday of Pride weekend and creates a space for folks of all backgrounds to connect with each other and with community organizations in celebration of our eclectic queer family! There will be dj's, arts and crafts for kids of all ages and tables for local organizations to set up information for the community.
Sunday, June 8 at 8:30am: JQ International Breakfast. BCCers are invited for an optional breakfast at JQ board member and Parade volunteer coordinator Nikki Levy's home: 1124 N. Ogden Dr. in WeHo. Very near the Pride Parade route!
Sunday, June 8 at 10:15am Interfaith Service & Pride Parade: Join Rabbi Lisa at the annual Interfaith Pride Service which will kickoff the Pride Parade. Meet at the north side of Santa Monica Blvd & La Cienega for this service. At 11am follow Rabbi Lisa (to N. Crescent Heights between Fountain & Santa Monica) and march alongside the American Jewish World Service, JQ International, Shtibl Minyan, Kol Ami, Temple Emanuel of Beverly Hills, Big Brothers Big Sisters, University Synagogue, Ikar, Bend the Arc, Temple Isaiah, Limmud LA and others in the Pride Parade! Participation is free but marchers need to sign up to join by Friday, June 6 morning with AJWS here. They need a count!
Sunday, June 8 at 1pm: Women's Havurah self-guided Tour of the Huntington Gardens. Meet at the entrance for the self-guided tour. General admission is $23, $14 for groups. RSVP to Cara at chemexplorer@aol.com. Also included is a docent tour of the Japanese House, with tea in the Ikebana House. Separate cost for Tea Ceremony Tour is $20. Call 800-838-3006 to register or by going to their website at www.huntington.org for the tea ceremony tour starting at either 2pm or 3pm.