Queering Our Traditions: LGBT & Faith Identities on Film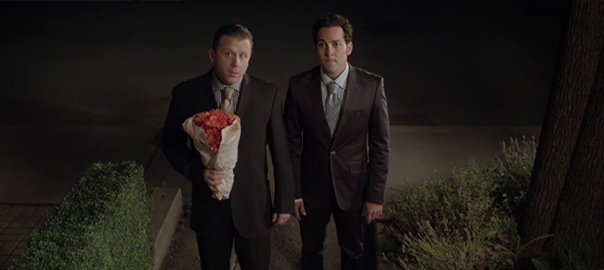 Rabbi Lisa Edwards will serve on the panel following the 3pm screening "LGBT Short HITS: Holiness, Identity, Tradition & Sexuality" on Sunday, March 6.
About LGBT Short HITS: Holiness, Identity, Tradition & Sexuality
Transmormon Eri Hayward was born and raised in conservative Utah County, comes from a Mormon background, was raised in the LDS church and even went to Mormon private school — but something wasn't adding up. Eri was born a boy and it was a slow, painful journey for her to recognize that she is transgender. This film catches up with 25-year-old Eri and her supportive family just before traveling abroad for her sexual reassignment surgery.
Natives Rachel and Anita, a young Manhattanite couple, are visiting Anita's parents on the Indian reservation she grew up on, for the first time as a couple. Anita, estranged from her parents, wants the fact that they are a couple to be kept secret. In private moments Rachel fights to convince Anita that they should come out to Anita's parents and in public tries to build a relationship of her own with Anita's parents, chiefly by demonstrating her reverence for Indian culture — a culture which Anita has no interest in. As Rachel's attempts to connect with the parents become more and more desperate, Anita begins to question whether her background is what attracted Rachel to her in the first place.
My Mother's Orphan. Maria, a 60 year-old devout Catholic mother is growing blind. As her sight declines, her lesbian daughter Lucha, a clumsy and shy 27-year- old photographer, pleads for her mother to move in so she can take care of her. When Maria refuses to move in until Lucha recognizes that she is NOT gay, Lucha must decide between rejecting her identity and her partner whom she lives with or rejecting her mother. While making her decision, Lucha prepares a photography project in order to show her mother she can't change.
The Binding of Ishmael. A young man questions the meaning of family duty when he is thrust into the violent rift between his father and brother.
The Seder. When openly gay Leo decides to bring his boyfriend Mitchell home for the first time at his families' Seder the boundaries of love and understanding get a little strained. Will everything go smoothly or will it all go to pot?
*Please keep in mind that while the event is free, parking at USC is $10, and we recommend allowing plenty of time to find the School of Cinematic Arts.