People: Rabbi Heather Miller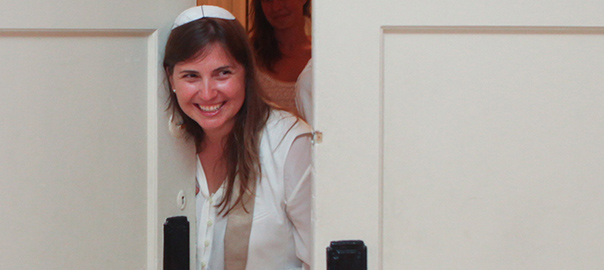 Rabbi Heather was the first one to took the BCC questionnaire, so it's an opportunity for us to know more about her. Like the fact that she's addicted to game shows on TV. And LOVES Janet Jackson.
Name: Rabbi Heather Miller
Residence: Hollywood, CA
Relationship status: Married
What do you do for a living: Rabbi
3 words that describe you: Caring, Enthusiastic, Grateful.
Short LGBT or Jewish related story from your life: I count as one of my most heartwarming moments a hot September day in 2008 when my Orange County congregants (some of them nonagenarians) and I stood on the corner to protest for marriage equality/ against prop. 8.
Favorite place or experience in Israel: Being taken to celebrate Purim by two of my amazing Israeli friends to a barn that was turned into a nightclub on a remote Moshav over the green line, back again, then back over the green line and back again, up a dirt road and past a scrap metal yard.
LGBT or Jewish hero: Rabbi Samuel Holdheim (look him up!)
What makes me happy: My wife. The beach. Good music. Good friends.
Do you have a pet? Do you count squirrels and mourning doves?
Guilty pleasure: Game Shows.
Favorite music artist recommended: Janet Jackson. The entire album: Rhythm Nation 1814. "Join voices in protest to social injustice a generation full of courage come forth with me."
Best news you heard this year: That my friend & colleague Rabbi/Cantor Angela Warnick-Buchdahl (look her up!) would become Senior Rabbi of Central Synagogue in New York City.
Places that you can find me at: BCC of course! The library. Under a chuppah. The rollerskating rink.
Connect with Heather: Twitter | Facebook
Fun fact:
I wrote 70% of my rabbinic thesis on the Reform Movement's earliest views on intermarriage in one night in Times Square, NYC: new years eve 2008, just before going outside to celebrate the ball drop.