Rabbi Lisa Edwards to be Honored at LA Pride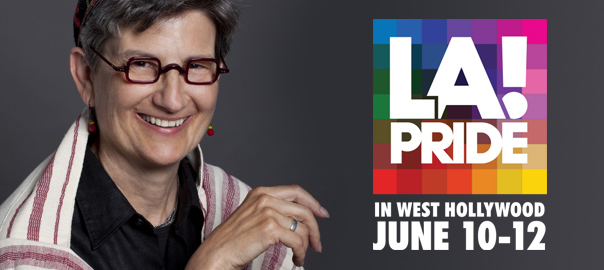 Christopher Street West and The Lavender Effect will honor Rabbi Lisa Edwards for her contributions and role in LGBTQ history in this year's LA PRIDE Parade. Rabbi Edwards will join other Southern Californian Trailblazers who will be celebrated in the 3rd Annual "Pioneers of Pride" Parade Entry.
So get ready to see our wonderful rabbi in LA Pride this Sunday. She be driven in a stylish caravan (generously provided by Great Autos of Yesteryear) and in great company, as this year's Grand Marshal is our beloved Jewel Thais-Williams.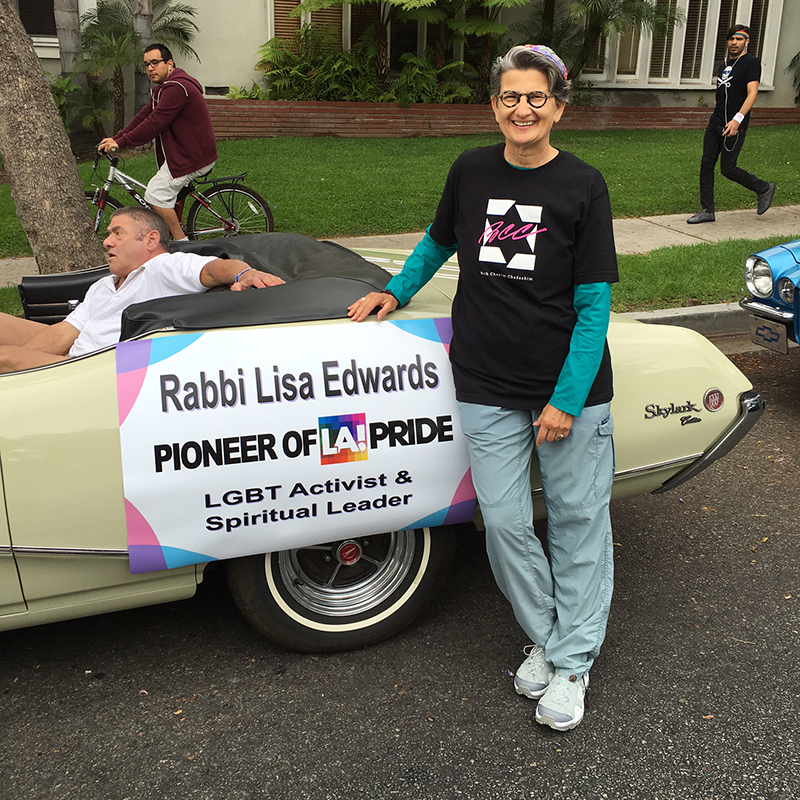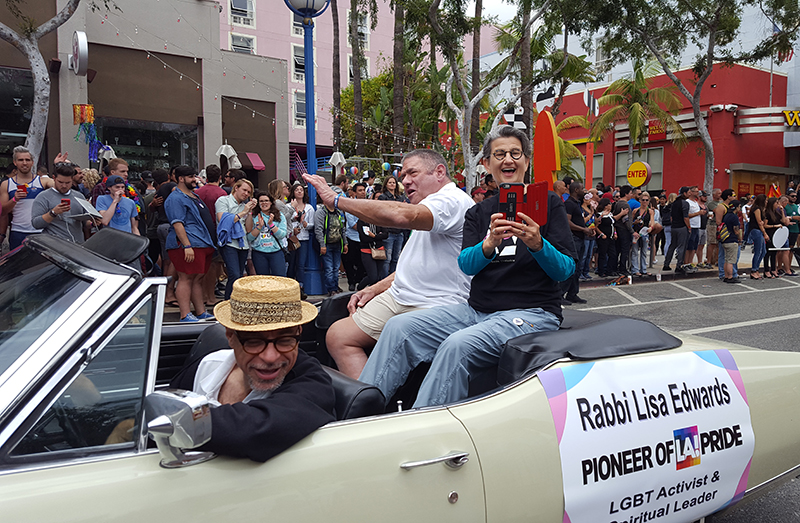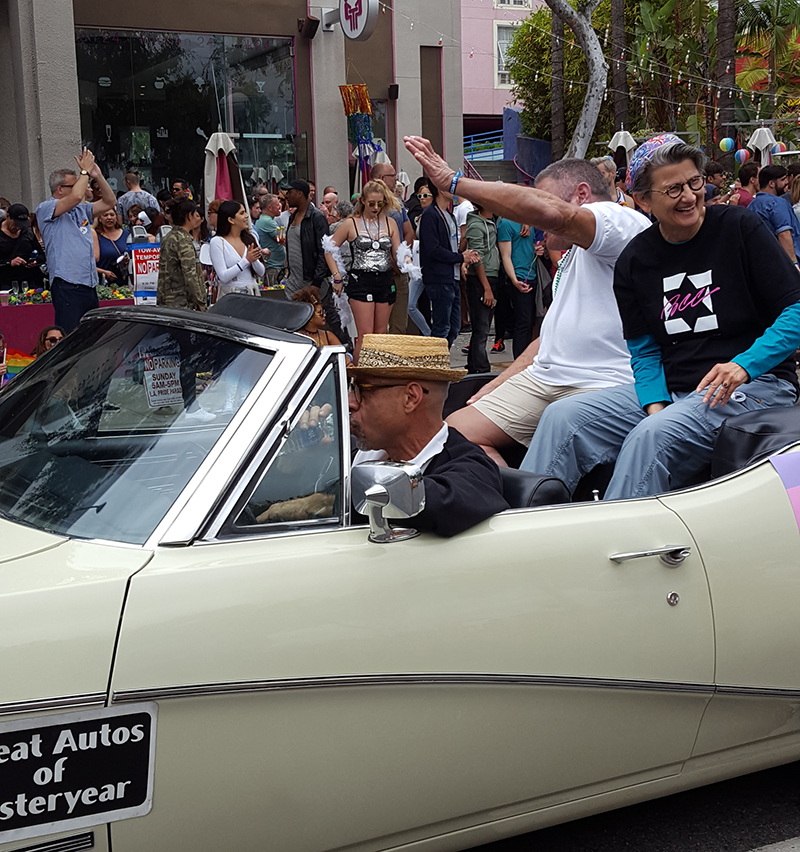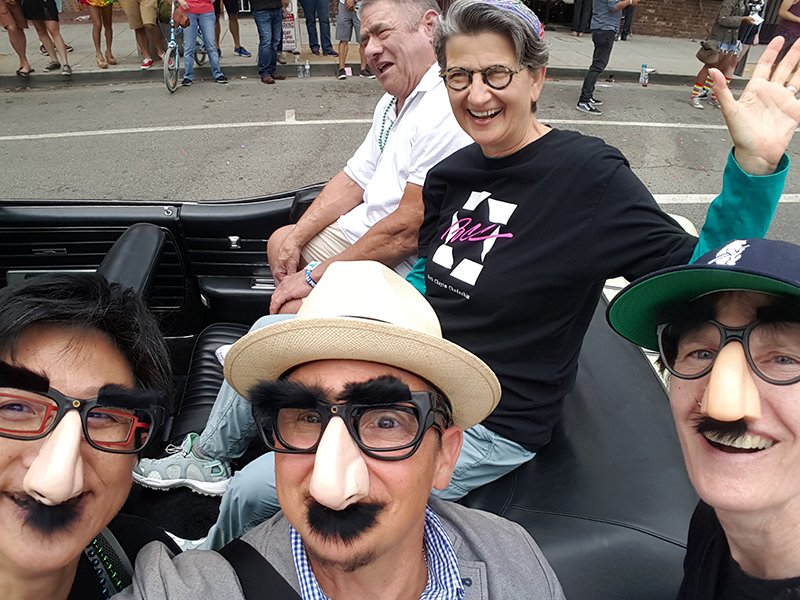 FAQ
When does the Parade start? The Parade begins at 11am on Sunday, June 12th.
How much does the Parade cost?  The Parade is free to attend.
What is the Parade route?  The annual LA PRIDE Parade in West Hollywood and runs westward along Santa Monica Blvd. from Crescent Heights Blvd. to Robertson Blvd.
How long is the parade? The parade typically ends around 2pm.
Since becoming rabbi of BCC in 1994, Rabbi Lisa Edwards has been a Jewish lesbian activist from the pulpit, on the page, on the Web, in the classroom, and in the streets of Los Angeles. She has witnessed—and works to counteract—the damage done to LGBT individuals when discrimination is preached by religious authorities and practiced by families and communities of faith. Most of all, she is known as a rabbi who speaks to the hearts of her congregants.
A frequent contributor to the Los Angeles Jewish Journal, Rabbi Edwards is widely published in books on queer and Jewish topics, as well as on websites where her scholarship on traditional Jewish texts combines with the personal and the contemporary. In 2013, The Jewish Daily Forward named her one of 36 "Most Inspiring Rabbis," and in 2014 the City of Los Angeles honored her as one of seven "LGBT Leaders and Legends." She is one of eight writers whose essays introduce The Reform Movement's new Mahzor (prayerbook) for the Days of Awe, Mishkan Hanefesh (CCAR Press, 2015).
In addition to ordination from Hebrew Union College-Jewish Institute of Religion (HUC-JIR), the seminary of the Reform Movement of Judaism, she holds a BA from Brown University, an MA from the University of Chicago, and a Ph.D. in English Literature from the University of Iowa.
Rabbi Edwards and BCC's "Lezbtzn" — activist and archivist Tracy Moore — have been loving partners for 30 years, marrying under a chuppah in 1995 and under California law in 2008.