Rabbi Lisa & Rebbetzin Tracy's 20th BCC Anniversary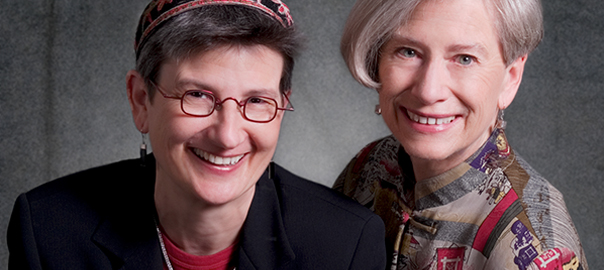 We have a special opportunity coming up to honor Rabbi Lisa Edwards & 'Lezbtzn' Tracy Moore 20 years with BCC. Download donation card (print version)
A Celebratory Fountain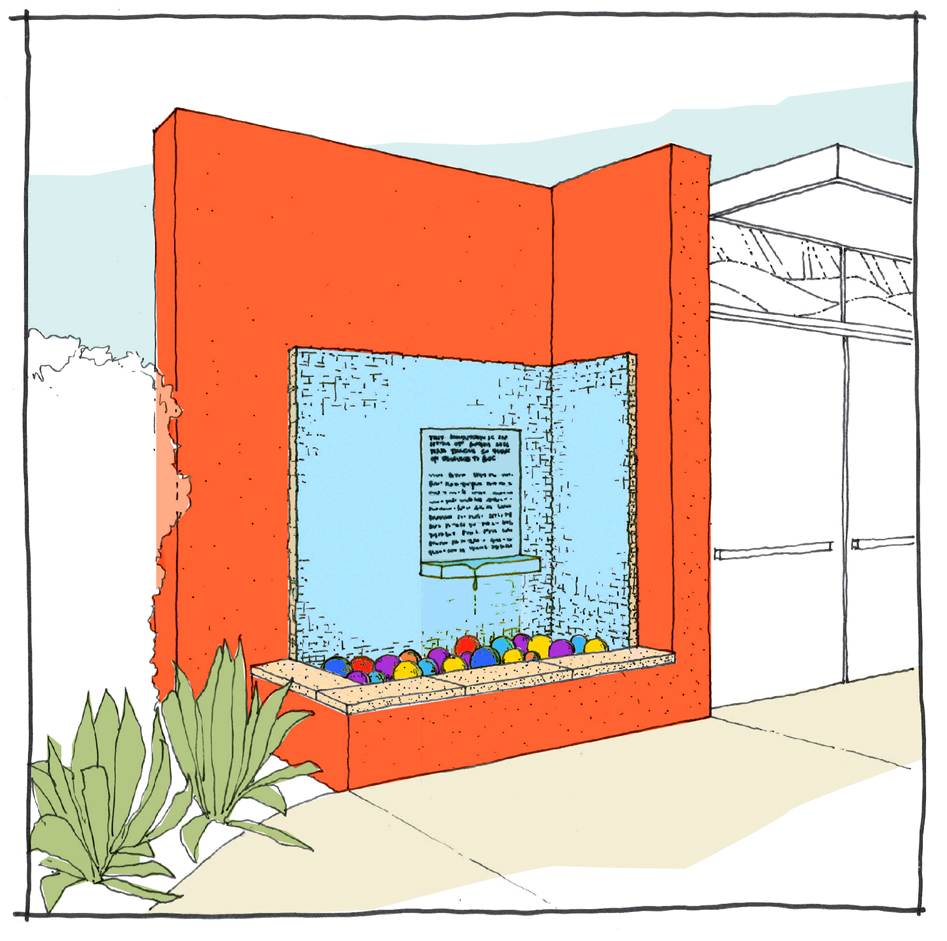 In recognition of Rabbi Lisa & Tracy's 20th anniversary at BCC, we will create a unique fountain celebrating their legacy with our congregation. As designed by BCC's architects, it will be placed in the garden next to our Alvira entryway, and feature water cascading over a mosaic wall into a pool where twenty brightly colored glass spheres cheerfully float. The names of those who took part in this lasting gift will be inscribed on the fountain.
A special event to dedicate the fountain and celebrate Rabbi Lisa and Tracy's 20th Anniversary at BCC is planned for Spring 2015.
Artist rendering / Legacy Fountain design donated by Toni Lewis and Marc Schoeplein
About gifts to the Fountain
BCC is blessed with as many reasons to honor Rabbi Lisa and Tracy as there are people who know them. We hope you'll take part!
The names of those making gifts of $50 or more by February 6, 2015 will be inscribed on the fountain. Other giving levels are reflected on the return card.
Dear BCC members and friends
We are so pleased to be celebrating Rabbi Lisa and Tracy's 20 years at BCC! Individually and together, they have made extraordinary and enduring contributions to our BCC Community.
To mark this joyous anniversary, we are planning a lasting tribute to them…a fountain and contemplative space in the temple's courtyard garden.
The fountain will greet all who enter our gates, symbolizing and marking the legacy of our beloved
rabbi and rebetzn.
We invite you to take part in this tribute by adding your name to the many who will dedicate the fountain. It will be a continual reminder of the years and remarkable history we have shared, and a fitting reflection of our BCC community into the future.
We look forward to hearing from you!
Download the 20th anniversary card- print version
Rabbi Lisa at BCC
August 1st, 2014 marked 20 years since Rabbi Lisa Edwards became our lead rabbi at Congregation Beth Chayim Chadashim.
In 1994 BCC formed a rabbinic search committee, but the choice was clear. Newly ordained Rabbi Lisa Edwards had served as BCC's student rabbi two years earlier, and she and her partner (now wife) Tracy Moore were already known to the congregation. Rabbi Edwards was also BCC's first rabbi to be openly gay or lesbian at ordination, as the Reform movement's rabbinic organization (CCAR) had voted to admit openly gay rabbis in 1990.
Rabbi Edwards received a Ph.D. in English Literature from the University of Iowa before beginning her rabbinic studies. Her experience with the small Jewish community in Iowa City helped convince her to become a rabbi. "As a lesbian and a woman, I often felt excluded by a community that was not yet reaching out to Jews with diverse lifestyles and backgrounds," she wrote in the October 1994 issue of G'vanim. "Among the many reasons I am thrilled to be back at BCC is the congregation's understanding of difference, alongside its passion for Judaism and for creating Jewish community."
Rabbi Edwards quickly became a unifying and healing force in the life of BCC. Her warmth and compassion, her keen intellect and well-crafted drashot, and her deep knowledge of Jewish tradition made her a beloved teacher, counselor, and spiritual leader. She also raised BCC's profile in the L.A. Jewish and LGBT communities, teaching courses at HUC in the rabbinic program and at USC in Jewish studies. Earlier this year, she was honored by Los Angeles Mayor for LGBT Heritage month. She often wrote for the Jewish Journal and became a sought-after speaker on the intersection of faith, sexuality, and human rights. Her writing also appears in The Women's Torah Commentary, Lesbian Rabbis: the First Generation, Mentsh: On Being Queer and Jewish, and Torah Queeries. 
One Comment on "Rabbi Lisa & Rebbetzin Tracy's 20th BCC Anniversary"
Lee Wygand July 28, 2014 pm31 7:02 pm .

Mazel Tov on your 20th year at B.C.C. I miss you and Tracy. I am now attending Temple Sinai in Palm Desert.