Rabbi Lisa's Words for MLK Day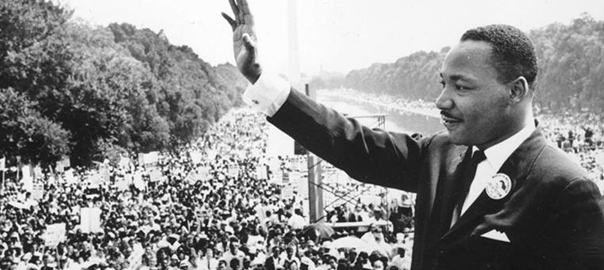 President Obama gave his last State of the Union speech this week. It reminded me of when I sat in a hospital room with our friend Harriet Perl, of blessed memory, just a couple of months before she died, and watched President Obama deliver his 2nd inaugural speech. Harriet cried through a lot of it, saying over and over she never thought she'd live to hear a president say what she heard this president say. "I love that man," she kept saying.
So I thought on this Martin Luther King weekend to read a passage from the President's inaugural before we sing the most Jewish of all songs of liberation. The song the Israelites sang with Moses and with Miriam when they got to the far shore of the sea that God had marvelously parted for them so that they could walk through on dry land and escape from Egypt.
Before I read the paragraph though I have 3 questions for you:
Who can tell me why Seneca Falls, NY is important in U.S. history?
How about Selma, AL ?
And how about Stonewall?
Oh, one more, when Pres. Obama mentions this great MALL – he's not talking about the Washington DC version of the Grove or the Beverly Center – what's he talking about?
From President Obama's 2nd inaugural speech January 21, 2013, Washington, D.C.:
"We, the people, declare today that the most evident of truths –- that all of us are created equal –- is the star that guides us still; just as it guided our forebears through Seneca Falls, and Selma, and Stonewall; just as it guided all those men and women, sung and unsung, who left footprints along this great Mall, to hear a preacher say that we cannot walk alone; to hear a King proclaim that our individual freedom is inextricably bound to the freedom of every soul on Earth."
This week, when we sing our song of liberation, of freedom… this week when we look at our stained glass windows and see the waters parting and imagine ourselves walking through to the other side, let's remember Dr. King who went before us, let's remember all the ones who went before us uncertain where their steps would lead…uncertain what would come next, but certain nonetheless that they were heading in the right direction ——- Where are your steps leading you?
______________________
[1] The American women's rights movement began with a meeting of reformers in Seneca Falls, New York, in 1848. Out of that first convention came a historic document, the 'Declaration of Sentiments,' which demanded equal social status and legal rights for women, including the right to vote.
[2] 1965 Martin Luther King, Jr., led hundreds of Americans on a planned march from Selma to Montgomery, Alabama. In the fight to secure voting rights for African Americans and other minorities across the country, the march was meant to be a peaceful representation of the outrage many felt in their fight to overcome the obstacles standing in the way of voting. Yet, they were met with violence at the hands of the local police force — assaults themselves representing the oppression and brutality regularly present in communities of color across the country.
Days later, after massive public outrage as the images from the Edmund Pettus Bridge were beamed across the world, King and the other marchers completed their journey. Eventually, the march went on unimpeded — and the echoes of its significance reverberated so loudly in Washington, D.C., that Congress passed the Voting Rights Act, which secured the right to vote for millions and ensured that Selma was a turning point in the battle for justice and equality in the United States.
[3] The Stonewall riots were a series of spontaneous, violent demonstrations by members of the gay (LGBT) community against a police raid that took place in the early morning hours of June 28, 1969, at the Stonewall Inn, a gay bar located in the Greenwich Village neighborhood of Manhattan,New York City. The riots are widely considered to constitute the single most important event leading to the gay liberationmovement and the modern fight for LGBT rights in the United States.