Rabbis welcome chance to officiate same-sex weddings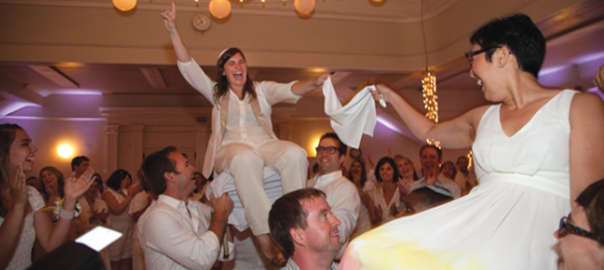 Rabbi Heather is featured in this week's Jewish Journal, included in their annual wedding edition. Below is the part on Rabbi Heather and wife Melissa.
Rabbi Heather Miller and her wife, Melissa de la Rama, have been through the process more than once: They had a domestic partnership ceremony in 2009; a spiritual wedding in 2012; and a legal wedding on July 1, 2014, after a federal court overturned Proposition 8, which had put a hold on gay and lesbian marriages in California.
"My wife and I always say that we are going to be one of the last generations of LGBT folks to have multiple anniversaries, said Miller, rabbi at Beth Chayim Chadashim, founded in 1972 as the world's first lesbian and gay synagogue. "Now people are going to be able to have all three ceremonies in one day, and that's a special thing."
She recalled waiting for a marriage license in 2014 at the Beverly Hills Courthouse, and overhearing another gay couple wondering where they could find someone to marry them. She volunteered, and married them on the steps of the courthouse.
For such ceremonies, the language of traditional elements such as the Sheva Brachot (Seven Blessings), the ketubah and the chuppah have long been customizable to be in line with a couple's wishes. Rainbow flags have been incorporated into designs for the chuppah or the ketubah, as well.
Read the full article on the Jewish Journal