Radical Welcoming: A Drash on Torah Portion Vayeirah by Rabbi Heather Miller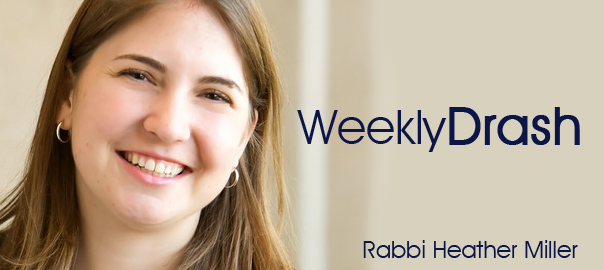 October 30, 2015.
Time for flashback Friday. Let's think back to that time when being a Jewish American princess was the dream of every, or almost every little Jewish girl (or boy!). It's hard to believe that a time like that existed but it did- in the San Fernando Valley in the 80s.
Once upon a time, in that time, in that place, there lived a little girl, who like all other little girls (and some boys), wanted to embody the Jewish American Princess ideal. She countered her friends on the school play yard — she was around seven years old. She saw them talking about it and she joined in on the conversation and she referred to herself as a Jewish American princess. And one of them turned to her and said: "You're not a Jewish American Princess! Your dad is not Jewish!"
Needless to say, she spent the rest of the day crying. She went home crying.
Fortunately for her, it was Shabbat, and her Jewish grandmother came over and noticed she was crying. And her grandmother asked her, "Why are you crying?"
And she answered, "Because I'm not a Jewish American Princess."
She said, "Who told you that?"
She said, "The girls on the play yard!"
And her grandmother said to her, "Let me tell you something, we are Kohanim, do you know what that means? It means is that my father, your great-grandfather was the eldest son of the eldest son of the eldest son all the way back to Aaron in the Temple. Which makes you a REAL Jewish princess!"
And the little girl replied, "And I'm American, too, because of dad!"
That little girl was me. That grandmother my grandmother that many of you know. It may be a surprising story that I ever wanted to be a Jewish American Princess.
Many of you know me to be the rabbi so passionate in the practice of keruv- the practice of bringing people close: closer to their Jewish roots, Jewish identity, Jewish texts and Jewish awareness of themselves as a vital part of the community
And this is why, that is part of my root in this that rejection that I experienced. Many of us experience this rejection in different ways. Those of you with two Jewish parents know it every time one of your family members plays the "I'm more kosher than you" game at Passover or on a larger scale anytime anyone claims that Reform Judaism is a watered down version Judaism or anytime anyone looks at you and looks past you and credits others with being more of that identity that you hold dear.
As Jews this happens, and when I hear about these kinds of microagressions, especially in the Jewish community, when someone with a black hat and beard is seen as more religious than I am, as a rabbi, it is difficult. That outright ostracisaction by Jews against other Jews, is difficult. That is one of the reasons why I gravitated so naturally to BCC, toward this community- because we are a community who gets that. We get it.
Founded in 1974 by gay and lesbian Jews who were also told they could not be both gay and also Jewish, the cornerstone of who they were, the people who founded BCC recognized that actually, you CAN be both gay and Jewish, and they made that the cornerstone of BCC. So, no matter who you are, if you have been told that you are not part of your people, if you have been told that your intersecting identities could not coexist, you are part of the BCC tribe. The tribe of people who understand that feeling and who built a place like this where others could not and would not judge.
From that point forward, we have gathered here at BCC to find completion within ourselves in all of our identities- in all that we are. THIS is the place where a person would be welcomed- LGBT Jews- welcome here!, feminist Jews- welcome here! , intermarried Jews – welcome here!, Jew of all hues- welcome here!
This week's Torah portion, Vayeira, relates a famous story about how Abraham and Sarah were approached by three wanderers and they, too, rolled out the welcome mat and put up the sign and said "you are welcome here!"
Just like we do at BCC.
Abraham greeted the strangers parched from their journey, Sarah whipped up a meal of meat stew, and fed the strangers milk (not kosher by he way! It was before the Torah was revealed- or not).
It is during this time that one of the visitors predicted that Abraham and Sarah would indeed conceive. Some say that the granting of their innermost wish, to have a child, was a direct reward for their welcome. Some say the visitors were angels in disguise.
Another midrash shares that Abraham was in the midst of communing with God in gratitude for their covenantal relationship when the visitors approached. And do you know what he did? He broke his attention from God to run out to greet the strangers.
We at BCC have been engaging in this type of honor and welcome for 40 years plus and we have gotten really good at it.
And where we once began as the first and only intentionally welcoming Jewish congregation of members of the lesbian and gay community, fortunately, in the forty years since, others have followed. So much change has occured in that time, in fact, that some ask why even have a congregation with LGBT identity at its core since so many other congregations are so welcoming?
The way I see it our identity as the worlds first LGBT founded congregation in the 70s, when such a thing was unheard of, roots us not only in LGBT space but also more universally in the business, if you will, of welcoming all. We will always be ones who welcome well and who find new ways to welcome those for whom other communities have tried to sever parts of a person: welcoming the Jewish partner but not their non Jewish spouse, or welcome the Jewish person but not their LGBT identity, or welcome the Jewish person but not their radical feminism, welcoming the Jewish identity but not any of their other identities. At BCC as our prayer for family states- the prayer for our congregational family- we welcome you as who you are, in all that you are.
Rabbi Rick Jacobs, head of the Union for Reform Judaism, recently officially recognized the importance of this kind of welcoming – he calls it audacious hospitality. And he spoke about t at biennial two years ago and recently created a position called VP of Audacious Hospitality. This way, he is hoping that that all Reform Jewish congregations would be as inclusive as possible.
Also, recently in the news, you might have seen that the Reconstructionist Rabbinical College issued a statement of a change in policy. Whereas before anyone who wanted to apply to their rabbinical school, to become a rabbi, needed to be married to, or partnered with, a Jew if they were partnered or married. They have now recently opened that up, and now they will welcome those who are not married to, or partnered with, a Jew as well– it can be a non-Jew or an agnostic non-Jew or someone who doesn't identify with a religion. The Jewish world feels like it is opening up with each passing year. And, we in the BCC community have always been trailblazers in this area. But we also know that we must not let it rest there.
We are still looking at how to become even more welcoming in three areas here at BCC. The board has discussed this, and we are in conversation about how we can be even more welcoming: to 20s/30s Jews, to members of the Trans community, and babies -we can be more welcoming of babies and children. Fortunately, we have smart, well intentioned people working on these ideas- and members of these groups themselves at the helm of the discussions. Well okay, not babies themselves, but certainly their parents.
Already, we are adding more 20s/30s socializing aspects of community building to our programming, we are also bringing someone in to help get us up to speed on Trans issues (Marsha Botzer will be here November 20 to lead a Trans 101 session after Trans Day of Remembrance Shabbat), and we are also looking into identifying ourselves and introducing ourselves by not only our names, but also our gender pronoun preferences as well. And, we have created the intergenerational service and we bring out books and stuffed animals for these services so that children who pray in a different way can feel welcome here as well and their parents don't have to feel self conscious about it. It is a wonderful thing to open up space for all kinds of communities here at BCC.
This is a good start to what will be new ways that we can continue to live up to the ideal of Abraham and Sarah of rolling out the welcome mat for all and making sure everyone has a stake in this vitally important work that we do here- that of gathering, supporting and giving thanks together in community. Because community does not mean we are all the same. It just means that, as Rabbi Lisa says, there is a place for you here. Shabbat shalom.