Raise Your Rainbow Flags High! Marriage Equality is the Law of the Land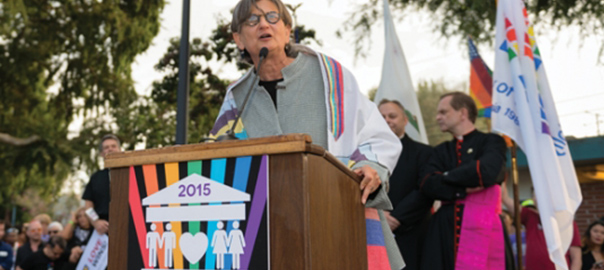 Excerpted from remarks by Rabbi Lisa Edwards on Friday, June 26 on behalf of the faith community at the Day of Decision Rally in West Hollywood Park, following the U.S. Supreme Court decision holding that same-sex couples have a constitutional right to marry nationwide.
Shabbat shalom! The Bible says, "sound the trumpets on your joyous occasions!"
In the Book of Genesis, God placed a rainbow in the sky as a reminder after the flood, a promise never again to destroy the world because of the bad behavior of humans. In Jewish tradition we take the rainbow as a reminder – an ot habrit – a sign of the covenant between God and humans. It is up to us, working in partnership, to make the world a better place. And today, through much working in partnership, the world became a better place!
Some people think voices of faith have no place at a celebration of the legalization of marriage equality. Some think voices of faith have no place here because so many "voices of faith" spoke so loudly against our right to civil marriage.
But if you think faith voices have not been on our side of this struggle, think again. The liberal movements of Judaism, for example, (Reform and Reconstructionist) have publicly advocated for marriage equality in civil law since the 1990s, and rabbis of those movements
have been marrying same gender couples in Jewish ceremonies since long before then.
In 1968 when the Rev. Troy Perry founded MCC, the Metropolitan Community Church – the world's first gay and lesbian church — right here in Los Angeles (Rev. Perry sends love to us tonight – he would be here if he could), or in 1972 when that same Rev. Perry helped a handful of gay Jews in Los Angeles start the world's first gay and lesbian synagogue – Beth Chayim Chadashim, the House of New Life — no one was thinking we needed queer houses of worship so that we'd have somewhere to get married. And yet soon after their founding, religious weddings were taking place within their walls.
44 years ago, in 1971, it was a Methodist pastor who officiated at a ceremony cited in one of the court cases that resulted in today's Supreme Court decision. And other ministers along the way, including Troy Perry, brought marriage directly to the courts and to public attention.
If you think religion and faith deserve no credit for what happened today, ask our friends Rabbi Denise Eger and Rev. Neil Thomas, who helped found California Faith for Equality in 2005, and have done so much for this cause and so many others (and who send regards to us tonight from Jerusalem and from Dallas). Or ask any one of us who are all clergy ordained by our various faith traditions. Many of us are part of the Los Angeles Queer Interfaith Clergy Council and many of us are L G B and/or T.
Ask us, your queer clergy and your straight ally clergy, about the couples we helped join together many years before any state said okay to same gender marriage. Ask us what our wedding calendars looked like in 2008 during that first short window of legal marriage in California, and in 2013 when it became legal again here in California.
Ask yourself why it matters to thousands of couples and their families that their civil wedding be witnessed and declared legal by a clergyperson from their faith traditions. Marriage – that peculiar and particular joining of human hearts and souls – is high on the list of what serves some human needs. It's why it has become a cause worldwide and it's why we are here tonight – in such variety of human experience – to celebrate this hard won victory of the human heart.
But "voices of faith" are also here tonight to say we know there is more to be done. Today President Obama went from the Rose Garden where he said that the Supreme Court just made our Union a little more perfect to Charleston to deliver a stirring eulogy for Rev. Clementa Pinckney, one of the nine Charleston AME voices of faith killed by the diseases of racism and violence still running rampant in our country.
We know marriage is not the be all and end all of civil rights. We know that marriage is not for everyone, nor is it bliss for all who enter it. We know that there are many battles still to fight – for transgender rights, health care rights – including mental health, rights to living wages, to shelter, to food, to legal immigration, to gun control, to an end to global warming, and an end to bullying and discrimination and prejudice and injustice in all its many forms.
As a religious community, we celebrate today how far we have come. But we don't rest yet – we know there is a long road ahead until the day we can say that all people, all genders, all colors, all configurations of families, may truly rest secure knowing that the law is there to protect us all so that all human hearts may open wide and let love in. Let Love Win.
Mazel tov to us all! Let us bless each other as we move forward in our struggles and in our celebrations!