Real Life Retirement Planning for the BCC Community
BCC's L'chayim Legacy Circle brings another in its series of financial planning seminars to BCC in January 2016.
The program is free and open to all and will be presented twice!
Our friend Steven Schmitt of Wells Fargo Advisors, who has led several valuable seminars at BCC, will lead a discussion highlighting the unique retirement planning and Social Security strategies available to singles and married couples.
PLEASE NOTE:  The Thursday evening financial planning program has been canceled. The program is still available on Sunday, Jan 10, 2-4pm, still free and open to all.  Please join us, even if you have not yet reserved.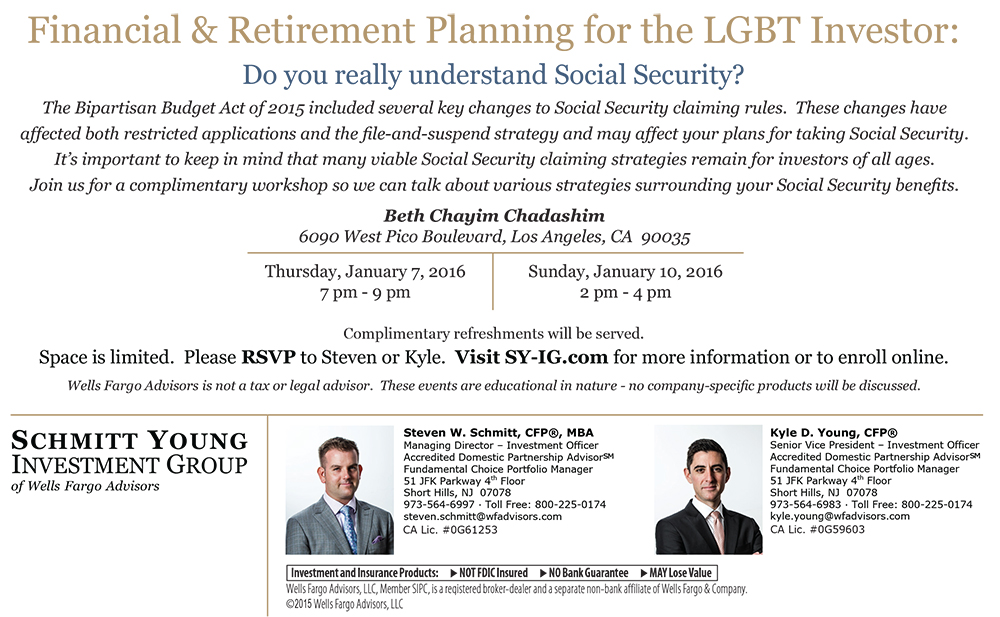 New Social Security claiming strategies and the effect of taxation on your Social Security benefits are just two of the important and potentially money-saving topics Steven will address. Bring your questions!
You still have an opportunity to attend this retirement planning program:
Sunday, January 10, 2016 at 2:00 – 4:00 pm
Takes place at BCC, 6090 W Pico.
The seminar is free, refreshments will be served, and no financial products will be discussed. Please RSVP to Gordon by January 5 so we may plan for group size. You also can email questions about the event to him.
Join us and start reaching toward your 2016 financial planning goals!