Saying our Final Goodbye to "Ms. Perl"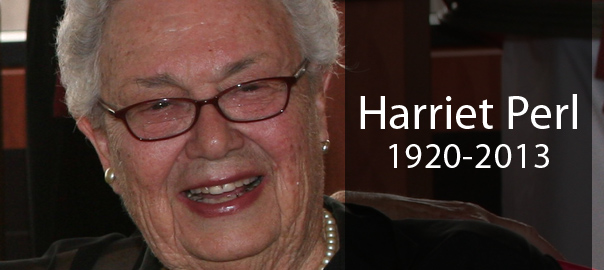 I bring you the sad news of the death of BCC's eldest member, Harriet Perl, age 92. Harriet, or "Ms. Perl" to her many adoring students during her storied tenure as an English teacher at Hamilton High School, died peacefully in her own bed at 8:45am today with her new, dear cat Mina nearby and good friend Peggy Ornelas at her side.
Harriet joined BCC in the early 70's, not too long after BCC's founding in 1972. Harriet was a cornerstone leader and role model at BCC throughout her approximately 38 years of membership, sharing her opinions and outpourings of love for BCC in equal amounts. One of Harriet's lasting contributions to not just BCC, but to modern Judaism, was the authorship of one of the first gender-neutral Friday night prayerbooks, a version of which we still use today.
Harriet served as editor of the BCC newsletter for many years and was known for her exacting use of her red pen not just in editing the newsletter, but with any written materials produced by BCC. She was fiercely proud of her temple and temple community, and always remembered those we lost along the way to the closet, to AIDS, to time. Harriet was outspoken about many issues, her thoughts mattered greatly to our community in issues of governance and ethics.
Tonight at 7:30pm at BCC instead of the previously scheduled class there will be an informal gathering of friends and members to share remembrances and stories of Harriet. Fran will be there to share a few prayers as well. There will be light refreshments. This will be live-streamed on BCC Live.
Many of you know that Harriet was a big fan of Ellen DeGeneres and over time had developed an acquaintanceship with her and a friendship with Ellen's mother Betty. Tune in tomorrow to NBC at 4pm to watch Ellen's show, she will briefly recognize Harriet's life and passing.
Sunday at March 24, at 10:30am at BCC there will be a complete Memorial Service led by Rabbi Edwards, Cantor Juval Porat, Fran Chalin, BCC Cantorial Emerita, and Rabbi Heather Miller. Please feel free to share this with others who knew Harriet. This service will also be livestreamed.
Please consider a donation in honor of Harriet to BCC, the home of what she called her family of choosing, the SPCA-LA in honor of her great of love cats, and/or  GLSEN, a group fighting for LGBT rights and equality in the schools.
4 Comments on "Saying our Final Goodbye to "Ms. Perl""