Screening: Nicky's Family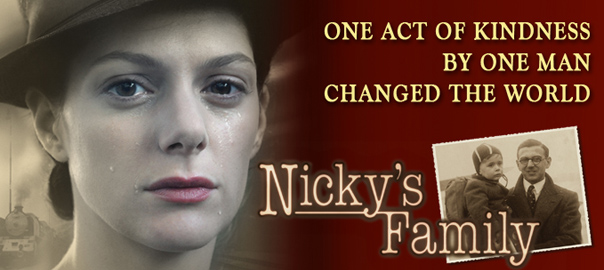 On Sunday, November 3 at 10:30 a.m. you are welcome to join us for an exclusive BCC screening of the documentary Nicky's Family  at Laemmle's Royal Theatre, 11523 Santa Monica Boulevard, West Los Angeles
Limited seats available – $18 per person including continental breakfast
All proceeds to benefit BCC's Torah Fund. Scroll down to see the trailer and read the BCC connection!
Get your tickets here. Ticket quantities can be adjusted after clicking the "Buy now" buttton.
Nicky's Family tells the nearly forgotten story of Nicholas Winton, an Englishman who organized the rescue of 669 Czech and Slovak children just before the outbreak of World War II.
Winton, now 104 years old, did not speak about these events with anyone for more than half a century. His exploits would have probably been forgotten if his wife, fifty years later, hadn ́t found a suitcase in the attic, full of documents and transport plans.
Today the story of this rescue is known all over the world. He was knighted by the Queen Elisabeth II and the U.S. House of Representatives passed H.R. 583 recognizing his remarkable deed.
Winton's story is a very emotional one, and thousands of children in many countries have decided to follow in his footsteps and do something important. They think up various charity projects and even help in the saving of lives of undernourished and sick children in Cambodia and Africa.
It is incredible that all these people live due to the heroic deeds of one man – Sir Nicholas Winton. Producers Matej Minac and Patrik Pass set out to ensure these fascinating, little-known stories and precious facts about the rescue mission are not lost to time. They wanted also to show the unique phenomenon that has emerged from Winton's story, how his courageous acts many years ago continue to influence people from all over the world and motivate them to do good.
Nicky's Family has earned rave reviews from audiences and critics around the world, winning over 30 awards – including 14 audience awards from U.S. film festivals!
Nicky's Family: The BCC Connection
BCC is honored to have a Shoah (Holocaust) Survivor Torah that is originally from the town of Chotebor, Czechoslovakia. Our Survivor Torah was among thousands of Jewish ritual objects captured by the Nazis for their planned "Museum of An Extinct Race." After the war ended, 1, 546 Torah scrolls were distributed to Jewish communities throughout the world as a living memorial to Czech Jewry, including BCC's scroll from Chotebor.
In 2005, we miraculously found Olga Grilli, the sole living survivor of the former Chotebor Jewish community. During a moving celebration weekend, we reunited Olga and her children and grandchildren with the precious Torah scroll, which Olga remembered her grandfather had held every Shabbat. Olga is one of the 669 Kindertransport children rescued by Sir Nicholas.
This special BCC screening is made possible through the courtesy of Laemmle Theatres.