"Songs from the Road" – Cantors Concert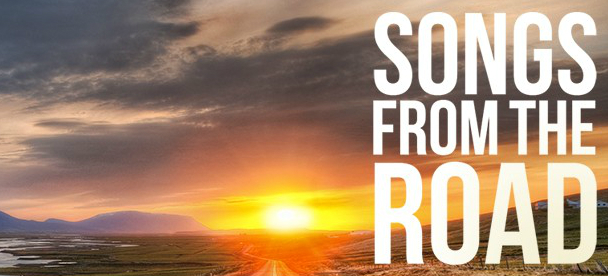 Join us for an evening of eclectic music performed by some of LA's brightest lights.
Featuring: Cantor Jennifer Bern-Vogel, Cantor Paul Buch, Cantor Sue Deutsch, Cantor Paul Dorman, Cantor Rachel Goldman, Cantor Juval Porat, Cantor David Reinwald, Cantor Aviva Rosenbloom, Cantorial Soloist Alan Scott, Cantor Rabbi Alison Wissot, Leah Zimmerman.
Saturday December 13, 2014 at 8:00 pm
Beth Chayim Chadashim
6090 West Pico Boulevard
Los Angeles, CA 90035
Get your tickets here – quantities can be adjusted after pressing the "buy now" button: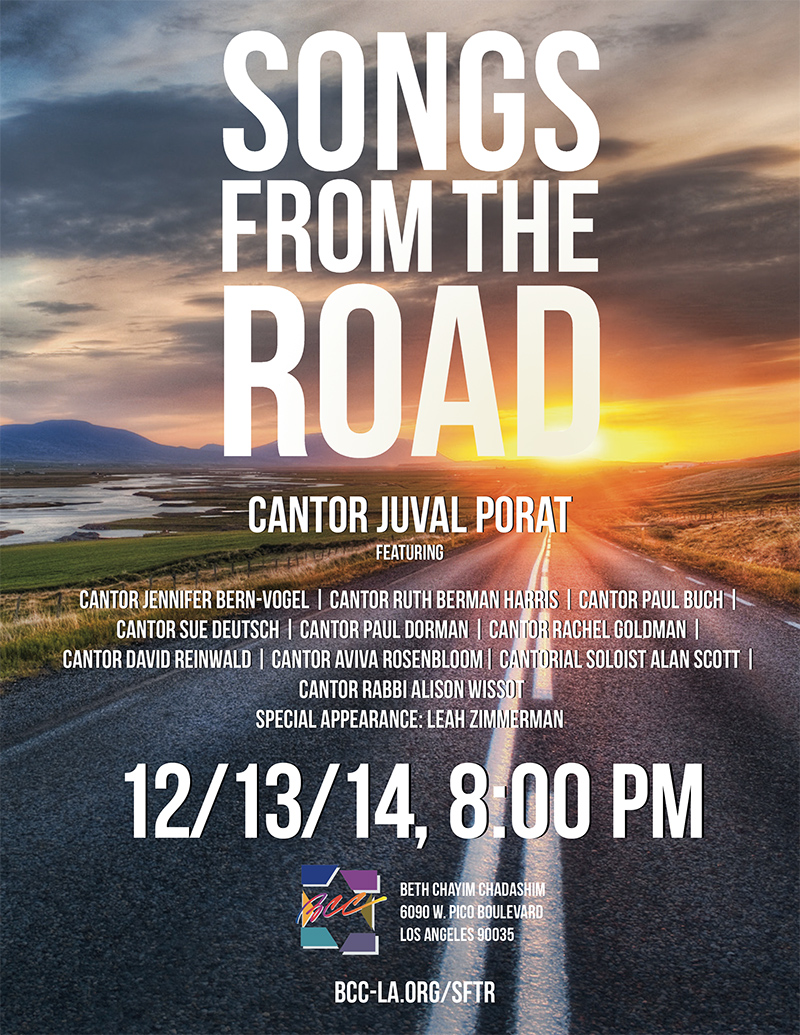 _________________________________
Cantor Juval Porat
Juval Porat was born in Israel and moved to Germany with his family as a child. For high school, he returned to Israel, where he studied at the Bnai Akiva Yeshiva. Back in Germany for university, he earned a master's degree in architecture, and worked as an architect in Berlin.
While in school, Juval served as a cantorial soloist at several congregations. The passion for singing and service leadership bred by those experiences led him to pursue cantorial studies at the newly established Institute of Cantorial Arts in Berlin, part of the Abraham Geiger College. He spent his final academic year at the Hebrew Union College in Jerusalem, where he wrote a thesis on the development of the Friday evening liturgy in Germany, and in June 2009, was invested as the first cantor to be trained in Germany since World War II.
Cantor Porat's career at BCC began when, while still a student, he served as BCC's Cantor for the High Holy Days in 2008 and 2009. It felt so right, that he was hired as BCC's Cantor the following year.
_________________________________
Cantor Sue Deutsch
Cantor Sue Knight Deutsch is in her fifteenth year as the sole spiritual leader of Heritage Pointe. She was raised in England in an Orthodox Jewish family. While studying psychology in London, she interned at a psychiatric hospital to qualify as a psychiatric social worker. She entered the Cantorate in 1996 by studying with Cantor Nathan Lam at the Steven S. Wise Temple and studied music at the collegiate level. She earned her credential in sacred music with acceptance into the Cantors Assembly in 2003, followed by her commission as Hazzan-Minister. She served as a member of the Executive Council of the Cantors Assembly nationally for three years.
Before joining Heritage Pointe, Cantor Deutsch served as the Assistant Cantor of Congregation Eilat, Cantor Soloist at Congregation B'nai Israel, and the sole Jewish clergy of the Villa Valencia retirement community, and has sung in concerts both nationally and internationally. Deutsch received her pastoral education through Mission Hospital and trained in Jewish Hospice Care with Rabbi Maurice Lamm at Vitas Hospice Care of Orange County. She is the author of "The Healing Hand: 5 discussions to have with the dying who are living" and is furthering her love of teaching and reaching out to those in need by teaching workshops on how to be present for those who are ill and their families. Deutsch is currently a member of the first cohort of joint Rabbis and Cantors in the Institute for Jewish Spirituality's Clergy Leadership Program, and serves as co-chair of the Cantors Assembly Western Region.
_________________________________
Cantorial Soloist Alan Scott
Alan Scott, a Mobile, Alabama native and son of two musicians, sang his first solo at the tender age of 8. Since then (more than twenty years ago), he has made appearances across the United States and in Canada, and managed to collect Bachelors degrees in Church Music and in Vocal Performance and a Master of Music degree in Choral Conducting along the way. Alan has performed a list of music theater, opera and (believe it or not) ballet roles too cumbersome to bother with here. Some of them were pretty good. He has also directed choirs and choruses of various qualities and sizes across the United States. Some of those were pretty good too. He was Artistic Director of Caballeros – The Gay Men's Chorus of Palm Springs for five seasons and just ended a 12+ year stint as Music Director and Cantorial Soloist at Temple Isaiah in Palm Springs. As a singer, Alan has performed in various venues from Carnegie Hall to a church basement in Kansas. Tonight's venue is much better than that. Alan shares his life with his husband Joel, their two beautiful (everyone says so) boys, Esteban and Enrique and three oversized mutts, Charley, Casey and Duchess.
_________________________________
Cantor David Reinwald
Cantor David Reinwald, a Chicago native, has been cantor of Temple Beth Sholom in Santa Ana since 2010. He holds a Bachelors in Music and Jewish Studies from Indiana University – Bloomington and was ordained as a cantor by the Hebrew Union College – Jewish Institute of Religion (HUC-JIR) in New York City in 2006. He is inspired by Jewish and cantorial music that is both classic and contemporary, and also has a specialization in music written and performed during the Holocaust. Out of his masters thesis research, Cantor Reinwald created an hour long transformative experience and performance entitled Cabaret of the Holocaust: Notes of Satire from the Stages, Cafes, and Streets of the Ghettos. His research is archived in the collections of the U.S. Holocaust Museum in Washington D.C. and at Yad Vashem in Israel. Cantor Reinwald's debut album, Here I Stand, was released in September, 2011. He is happy to again be singing at BCC, last seen at the building dedication concert, Home, a few years back.
_________________________________
Cantor Rabbi Alison Wissot
Rabbi Cantor Alison Wissot is best known for her joyful spirit, her soulful singing, and her passion for Jewish learning. She is dedicated to revitalizing worship and integrating the ancient sounds of Jewish tradition with contemporary music, and her background in theatre brings life and energy to synagogue experiences. Alison's deepest mission as a teacher, is to make the beauty and joy of Jewish text and liturgy accessible to all. Alison's work on the Board of Directors of Stand With Us has helped strengthen the Jewish community's pro-Israel message across college campuses. She is an active member of the American Conference of Cantors, the Cantors Assembly, and the Central Conference of American Rabbis. Alison served as cantor at Stephen S. Wise Temple in Los Angeles and the Brooklyn Heights Synagogue in New York, as well as the rabbinic intern at Kehillat Israel in the Pacific Palisades and the High Holy Days cantor in Singapore. Prior to her cantorial career, Alison worked as an actress in New York and London, and was awarded a Spielberg Fellowship to teach Jewish theatre at the Reform Movement's flagship camp, Camp Kutz. Alison has brought her internationally acclaimed teaching of Jewish theatre to such events as Limmud 2002 in London and other conventions and synagogues worldwide. Alison, a native of the San Fernando Valley, resides in Woodland Hills with her husband, Michael, their sons, Jacob & Daniel, and their daughter Abby.
_________________________________
Cantor Jennifer Bern-Vogel
Cantor Jennifer Bern-Vogel was ordained in 1995 at Hebrew Union College – Debbie Friedman School of Sacred Music in New York. Cantor of the historic Ohef Sholom Temple in Norfolk, Virginia for thirteen years, Jennifer and her family relocated to southern California in 2009 to be closer to her husband's parents, both Holocaust survivors. Since her arrival, Bern-Vogel now serves Congregation Emanuel El [formerly of San Bernardino] in Redlands, which traces its history back to the early 1850s when the first Jewish settlers came to southern California.
Cantor Bern-Vogel studied Yiddish Art Song with Singer, Masha Benya, of blessed memory, in New York and also appeared at the Folksbine Theater in "Sheyn tsu zayn a Yid" with the legendary Tsipora Speisman, of blessed memory, during their 80th season in 1996. An active member of the American Conference of Cantors, Cantor Bern-Vogel was in the 2nd Cantorial cohort with the Jewish Institute of Spirituality. In Los Angeles, where she resides, she teaches B'nai Mitzvah students at Temple Isaiah, and is a Chaplain intern at Cedars-Sinai Hospital.
_________________________________
Cantor Aviva Rosenbloom
Cantor Aviva Rosenbloom served as Cantor at Temple Israel of Hollywood from 1975 through 2008, making her one of the pioneering female cantors in the Los Angeles area. She most recently served as part-time cantor of the Sun City Jewish Congregation in Palm Desert, CA – – and of the Experience Shabbat Minyan at Wilshire Boulevard Temple.
She was Cantor for the High Holidays for the past two years at Seacrest Village in Encinitas, CA.
Aviva is also a songwriter, with several CDs available of her own Jewish music, as well as a career retrospective CD, "Viva Aviva: A Life in Song."
_________________________________
Leah Zimmerman
Leah Zimmerman , Director of Education, joined BCC as the temple's first Director of Education in August, 2007. She oversees BCC's innovative family education program, Ohr Chayim, as well as the temple's holiday and educational programming for children and families. Leah has worked in formal and informal Jewish contexts as a mentor, teacher, education director, and tutor, integrating Jewish learning with the arts and family and community education. Leah holds an M.S. from the Bank Street School of Education in New York City, and has been Director of Education at Congregation Kolot Chayeinu in Brooklyn, NY. Leah has also worked as an Elementary school teacher in the public schools in New York City and Round Rock, Texas, where she learned how meaningful learning takes place by listening givingly to her kindergarten and second grade students.
_________________________________
Cantor Paul Dorman
Paul is currently serving as cantor for TEMPLE NER SIMCHA in Westlake Village. He began his cantorial career at Sinai Temple in Los Angeles and is known for his work with ground breaking progressive services. At Sinai he helped create FRIDAY NIGHT LIVE and TORAH IN THE ROUND. At other temples, KOLOT, SHABBAT SINGS and with Rabbi Michael Graetz, the award winning CD and book PRAY IN DEED. Paul has performed in musicals, plays concerts, television and film as well as writing, directing and producing them. As a member of the Helfman New Composers Group, his new liturgical compositions are sung by cantors around the country. His new album I SEE THE WHOLE WORLD SHINE is a collection of inspirational, uplifting contemporary songs based on Jewish prayers and values. The songs are in English and most have some Hebrew beautifully woven throughout them. All of the songs express a joy of life and the hope that we can make a better world. One of his songs BLESSING FOR A NEW MONTH is on the new United Synagogue Spirit Series release HOPE AND HEALING. "I want to be a bridge that helps our world understand that we are all connected, regardless of race, ethnicity or religion, and that we all wish and pray for the same things
_________________________________
Cantor Paul Buch
Paul Buch has served as Cantor at Temple Beth Israel in Pomona, CA since 2005 and is a graduate and ordainee of the Academy for Jewish Religion/California in Los Angeles. His soulful, energetic approach has been described as both "deeply spiritual" and "cheerleading for G-d". Paul came to the cantorate after a 25-year career in television and film production, which he embarked on after his graduation from Boston University with a degree in journalism. A native of Buffalo, NY, he credits his parents, David and Drena (z"l), with inspiring his love for Judaism and especially Jewish music, at a very young age.
Motivated by his own upbringing in a diverse religious community, Cantor Buch is deeply engaged in interfaith activities throughout Southern California and serves as Chair of the City of Claremont's Committee on Human Relations. Paul is an active member of the American Conference of Cantors (ACC), the Cantors Assembly (CA) and serves on the national board of OHALAH, the national organization of clergy in Jewish Renewal. He is married to Lisa, an urban planner who is part of the management team for the Foothill Gold Line Extension transit project, and they have two sons, Sam and Ben.
_________________________________
Cantor Rachel Goldman
Cantor Rachel Goldman, a native of Los Angeles, began her vocal training as a coloratura soprano at a young age, spending a majority of her childhood in the highly-acclaimed Los Angeles Children's Chorus. Before reaching college, she had already sung on some of the largest stages in LA, including the Hollywood Bowl with the Los Angeles Philharmonic and the Dorothy Chandler Pavilion in five operas with the Los Angeles Opera.
Cantor Goldman graduated Summa Cum Laude from the American Jewish University in 2010 with a degree in Classical Jewish Studies, BA, after several years at University of California Santa Barbara, where she studied both Vocal Performance and Italian Studies and was selected for a summer residency in the Loire Valley, France.
Ordained at the Academy for Jewish Religion, California, in May of 2014, she holds a Masters of Jewish Sacred Music from the same institution. She is also set to receive a second ordination as Rabbi and a Masters of Rabbinic Studies in May of 2015. She has served for over seven years at Congregation Beit T'Shuvah, a synagogue and full inpatient addiction rehabilitation center that incorporates Jewish teachings. There, she has had the opportunity to orchestrate services ranging from classical to high-spirited rock and Jazz with full band, as well as working with recovering alcoholics and addicts as a spiritual counselor and even preparing some for adult B'nai Mitzvah. Cantor Goldman is also currently part of a project called Guys and Meidels, a collaborative show which, along with three other young LA-based cantors (Cantors Marcus Feldman, Samuel Cohen, and Shira Fox), melds traditional Chazzanut and other Jewish music with new and exciting modern sounds and unique harmonies to unite different generations of Judaism in concert. She is beyond thrilled and honored to be a part of this event alongside so many respected and talented colleagues.
4 Comments on ""Songs from the Road" – Cantors Concert"
Roberta Goldberg November 7, 2014 pm30 10:59 pm .

What is included with the VIP ticket? Thank you.

Juval November 8, 2014 am30 7:44 am .

Hi Roberta,
The VIP includes front row tickets, as well a free copy of Cantor Juval Porat's Album Shalem. Additional perks are in the works.
We hope to see you at the concert!
Thank you for your interest,
Juval

Neil Brown December 9, 2014 pm31 8:41 pm .

I purchased my tickets on 11/26, but haven't received them; is this a will call situation? I have a receipt from PayPal. Thanks!

Juval December 10, 2014 am31 9:48 am .

Hi Neil,
Yes, tickets will be given to you on Saturday night. Thank you for your support!
Juval