Shabbat for Parents and Kids at BCC-LA
Families with children of all ages are invited to join Cantor Porat and the Ohr Chayim families for a Shabbat morning service.  Following the service, preschool children and their parents do some singing, storytelling, and crafts together.   Elementary school-age children are invited to join the Ohr Chayim students for some learning and activities. 

Beth Chayim Chadashim offers a Shabbat morning of great activities for parents and kids at our new building in central L.A.: Basic Hebrew Class, study this week's Torah portion and learn about the Jewish holidays. Our next event will be on Saturday, June 1.
Ohr Chayim (Light of Our Lives). BCC's Family Education Program for children and their families., which gathers at 10:00 a.m. to learn Hebrew and Torah. At 11:00 there is  a clergy-led Torah Study for adults. To help us prepare for the ages of the children, please email Leah if you are thinking you might attend: leah@bcc-la.org.
Parent and Me. Children five-years-old and younger are invited to come and bring a parent or two to join our warm and friendly group for singing, storytelling and Shabbat fun with Ms Purple!
This a is the perfect opportunity to meet other families, as a chance to gather and celebrate Shabbat together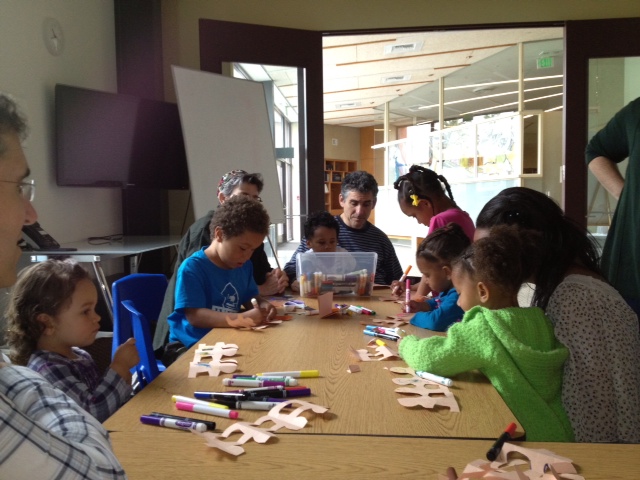 Arts and Crafts: Making People Chains during 'Parent and Me' activities
One Comment on "Shabbat for Parents and Kids at BCC-LA"