Shavuot Night at BCC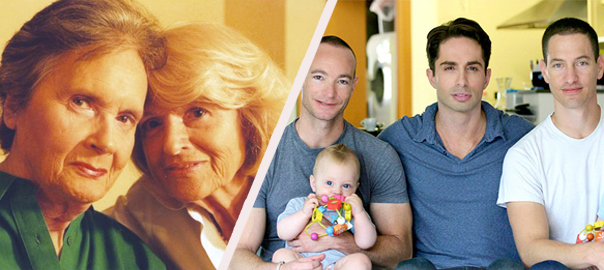 Shavuot commemorates the anniversary of the day God gave the Torah to the entire nation of Israel assembled at Mount Sinai (Matan Torah).
BCC will celebrate Shavuot with a special evening, starting with a discussion on current GLBT-related laws worldwide, following by screenings of TWO great movies!
We are also going to keep the tradition of eating only vegetarian and dairy food. It's going to be pot-luck-style, so you are welcome to bring A vegetarian and/or Dairy Dish to Share
Tuesday, May 14, 2013
6:30 pm to Midnight
At Beth Chayim Chadashim
6090 W Pico. Blvd. Los Angeles
6:30 pm PROMPTLY Blessings/chanting of the ten commandments, Brief Yizkor prayer Led by Rabbi Lisa Edwards and Cantor Juval Porat
7:30 pm  Dinner/movie/Learning/Discussion Led by Rabbi Lisa Edwards.
We'll eat dinner as we watch the documentary: Edie & Thea – A Very Long Engagement. The story of Thea Spyer & her widow, Edith Windsor, the 83-year-old lead plaintiff in the DOMA (Defense of Marriage Act) case currently before the U.S. Supreme Court.
9:30 pm  Learning/Text study with Rabbi Ethan Bair.
Presentation from the American Jewish World Service (AJWS) on the scary fight for LGBT rights currently going on in Uganda.
10:45 pm Movie/Learning/Discussion
Screening of the new documentary: Undressing Israel: Gay men in the promised land. Led by Cantor Juval Porat
Edie & Thea – A Very Long Engagement.
After 42 years, feisty and delightful lesbian couple Edie and Thea are finally getting married. From the early '60s to the present day, the tireless community activists persevere through many battles, both personal and political. As Edie says, We just went on with this talent we have for wrestling joy from the shit. Susan Muska and Greta Olafsdottir (THE BRANDON TEENA STORY) return with a love story of two remarkable women whose commitment to each other is an inspiration to us all. Read more in the official movie website.
Undressing Israel: Gay Men in the Promised Land
When many people think of Israel, it is often in terms of modern war or ancient religion. But there is much more to the Jewish state than missiles and prayers. In his debut as a documentary filmmaker, adult-film entrepreneur and political columnist Michael Lucas examines a side of Israel that is too often overlooked: its thriving gay community. Undressing Israel features interviews with a diverse range of local men, including a gay member of Israel's parliament, a trainer who served openly in the army, a young Arab-Israeli journalist, and a pair of dads raising their kids. Lucas also visits Tel Aviv's vibrant nightlife scene—and even attends a same-sex wedding—in this guided tour of a country that has emerged as a pioneer for gay integration and equality. Go to the official website of the movie for more information
2 Comments on "Shavuot Night at BCC"
lexie french May 1, 2013 pm31 3:58 pm .

I am transgender mtf and I am Jewish not by blood by choice and my parents are Roman Catholic & Lutheran

lexie french May 1, 2013 pm31 3:59 pm .

its my birth day tomorrow and I am turning 28