Surprising, Inspiring Night for Ugandan LGBTI Rights at Synagogue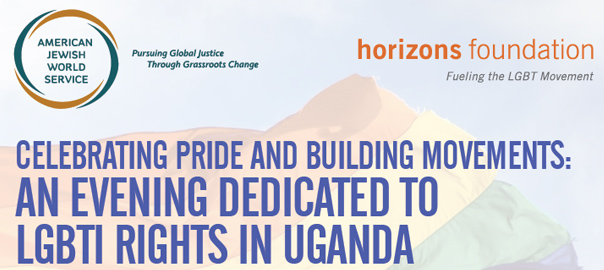 TV writer Rachel Segal-Sklar attended BCC's evening for LGBTI rights in Uganda and shared her experience on the Huffington Post
I recently attended Celebrating Pride and Building Movements: An Evening Dedicated to LGBTI Rights in Uganda, hosted by the American Jewish World Service at Beth Chayim Chadashim in Los Angeles. Before I arrived, I had no impressions of what the night might hold, other than a discussion of the situation in Uganda.
The event started out on a serious note, when Dr. Michael Adee, director of the Global Faith and Justice Project, Horizons Foundation, showed a short video produced by the UN, with the message that LGBT rights are human rights. He then introduced Allison Lee, the "straightest gay person" in LA and Executive Director of American Jewish World Service for Southern California. She spoke about the important work that the AJWS is doing in Uganda, fighting a bill that would increase the penalty for homosexuality from imprisonment to death.
She also explained the additional "I" she and Dr. Adee placed at the end of "LGBT:" it stood for intersex, a condition in which one is born with ambiguous sexual organs that do not align with the typical classification of solely male or female. While we do not hear about intersex people often in the US, internationally, specifically in developing countries, there is a larger community of people experiencing discrimination because of it, and who have found a home within the LGBT community.
Read the full post on the Huffington Post