Telephone Torah Study: It is Not in the Heavens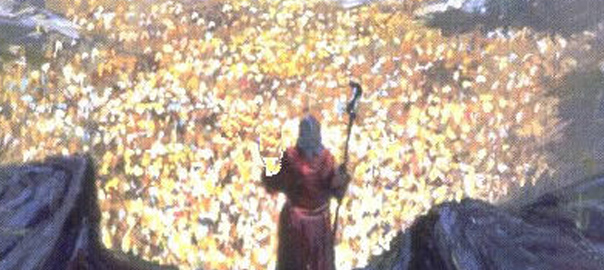 Double your fun with this week's double Torah portion, Nitzavim-Vayelech (Deut. 29:9-31:30). Although it's a short double portion it's packed full of powerful passages including the reminder that "this Instruction …is not too baffling for you, nor beyond your reach…It is not in the heavens…neither is it beyond the sea." Each one of us can grasp it.
Telephone Torah Study, this Thursday at 4pm. To join in on the conference call, please dial 702-851-4044, when prompted punch in 2, then our pass code 22252#.
Jump to: Selected Verses of the Week | Portion Summary
'Writing Women Into the Torah' by Rabbi Dianne Cohler-Esses for The Torah: A Women's Commentary' is the suggested weekly reading. Rabbi Cohler-Esses argues that women's voices must be included in the sacred discussion because: "If women exclude themselves from that process, the full power, relevancy, and truth of the Torah are diminished."
For the last four or five decades, feminist scholars have asserted that the Bible is an androcentric work reflecting a time when men controlled property, politics, and religious life, not to mention women themselves. Those insights de-legitimized the Torah as a source of meaning and authority for many women. How could a sacred text reflect the injustices of patriarchy? It did not seem possible.
However, the extent to which patriarchy de-legitimizes the Bible as a sacred book for women has become more nuanced in recent scholarship. While the Bible's male-centeredness generally goesu ndisputed, at least in academic circles, various scholars (such as Phyllis Trible, Tikva Frymer-Kensky, and Meyers) have highlighted a number of potentially mitigating or even redemptive elements .. concerning women. First are the powerful and highly delineated female chalacters in the Bible, most notably Sarah, Rebekah, Tamar, Miriam, Rahab, Deborah, and Ruth, all of whom are leaders who transform the private or public realms in which they act. Second are the Bible's commandments that express a clear concern for the care of the marginal and/or impoverished in society: the stranger, the fatherless, and the widow. Third are the deep covenantal principles articulated in the Torah that can be used for feminist purposes.
Parashat Nitzavim exemplifies this, with its rich, powerful–even revolutionary–concepts that can be used to further the creation of a feminist Judaism. The parashah begins: "You stand this day, all of you, before your God–you tribal heads, you elders, and you officials, all the men of Israel, you children, you women, even the stranger within your camp, from woodchopper to water drawer–to enter into the covenant of your God" (29:9-10). Let's take a close look at the language surrounding women.
Continue reading on My Jewish Learning
Torah Passage of the Week
Surely, this Instruction which I enjoin upon you this day is not too baffling for you, nor is it beyond reach. It is not in the heavens, that you should say, "Who among us can go up to the heavens and get it for us and impart it to us, that we may observe it?" Neither is it beyond the sea, that you should say, "Who among us can cross to the other side of the sea and get it for us and impart it to us, that we may observe it?" (Deut.30:11-14)
Portion Summary
The double portion of Nitzavim-Vayelech recounts Moses's last days. Complicated to the end, Moses takes leave of his people in longing, rebuke, anger and blessing. Amidst this stormy stew, Moses offers comfort: "Be strong and resolute; be not in fear or in dread," he implores. "For it is God who walks with you. God will not fail you or forsake you."
Alone, with hand outstretched, God smashed and cleared Israel's path to the Exodus. And for forty years, through cloud and smoke, God had blazed the way and hovered above, cloaking the people in heavenly protection. Now Moses assures his almost-orphaned nation: God will walk with you. Not above nor ahead, but with. Among the camps, flags, wagons and herds, the Lord's footfalls will land beside theirs.
The promise of walking together, though, seems odd, misplaced—almost an accidental slip. The utterance is barely audible: a negligible prepositional variance—this with that is not ahead nor before—conveying a different sort of comfort to the people. Indeed, as quickly as Moses so assures Israel, he returns to consoling the nation with reference to a God who leads the way, instructing Joshua not to fear, for "it is the Lord who walks before you."
Perhaps Moses does slip. At the end of his days, he longs to remain with the people. His yearning detains him in this world as he casts about for a means of stowing away among the living. And so maybe the-Moses-who-says-what's-on-his-mind slips—unwittingly modeling his description of God's relationship with Israel on the one that he, to distraction, craves.
Moses, to be sure, finds his way to stay. Parshat Vayelech, the second in our double portion, opens with Moses set upon the way: "And Moses walked; and spoke these words unto all Israel." The verse, with its passing mention of Moses walking, is peculiar. To where does Moses go and why is his destination not named? Is not this fragment superfluous in the account of Moses's departure?
Midrashic accounts suggest that Moses goes precisely where the text directs: "unto all Israel." The people have dispersed since their assembly in Parshat Nitzavim, but Moses still has more to say—words too intimate to deliver to a gathered congregation. Thus, on the last day of his life, the old man who insists that he can "no longer go out and come in" walks the entirety of the encamped nation's boundaries. He goes from tribe to tribe and tent to tent—saying goodbye, blessing his people and begging forgiveness for the harshness with which he so often met them.
Said otherwise, Moses walks into the people.6 Before taking leave of his body, Moses grafts a piece of his soul onto each of theirs; he enters them. Henceforth neither Israel's leader nor caretaker, exhorter nor commander, Moses will be, instead, its companion. Gracefully or otherwise, the great man refuses to go.
Moses's with begs of us some uncomfortable questions. When we—Americans, Westerners, Jews—encounter those around the globe facing the long, hard road of poverty, disease or oppression, how do we find ourselves walking? Do we march to the forefront, dictating terms and solutions? Do we hover above, insisting upon the primacy of our ideas and the virtue of our leadership? Or do we walk from tent to tent and camp to camp? Do we lock arms and synchronize strides?
Continue reading the summary on American Jewish World Service