Three Altos Concert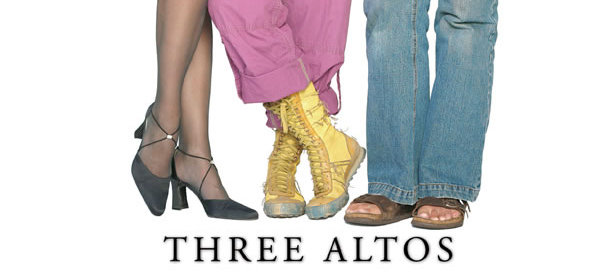 A rabbi, a folksinger and a professor make up the unlikely vocal trio of "Three Altos."
The group is comprised of Rabbi Amy Bernstein, singer/songwriter Sara Thomsen,
and psychology professor Dr. Paula Pedersen. Their magical vocal blend comes from years of harmonizing a friendship over food, conversation, laughter, and song.
Join us on December 1st as they spend an afternoon of friendship and song with the community. Sunday, December 1, 4:00 PM at Kehillat Israel
Kehillat Israel
16019 W Sunset Blvd, Pacific Palisades
Enter underground parking off of Muskingum Ave.
Special rate for BCC members $20-adults, $8-kids 7-17
CLICK HERE to RSVP.
The trio performs an eclectic mix ranging from Jewish liturgical songs to African chants, traditional folk songs to covers of contemporary songwriters. Their albums include "Three Altos: Camaradas" and "Three Altos: One Voice". Visit their website at www.threealtos.com to read more.