Vashti Needs a Home!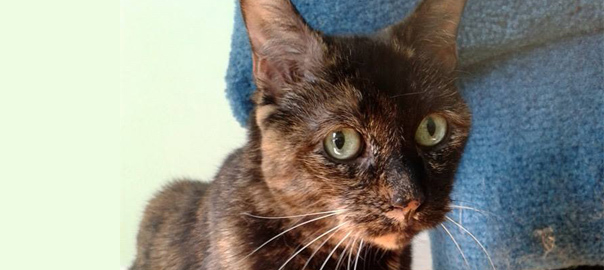 Long-time BCC members Stephanie and Kristin are looking for a home for Vashti, a healthy, 14-year old cat. She is a wonderful and loving pet, but needs a loving home with no other pets.
Any way you look at Vashti, she is a bundle of sweetness!
Vashti was the treasured pet of Stephanie's mom Joan, of blessed memory. Kristin and Stephanie can't keep Vashti, because they have other pets. Please help Vashti find a loving home as soon as possible!
Gentle eyes
that see so much,
paws that have
the quiet touch.
 Purrs to signal
"all is well"
and show more love
than words can tell.
Graceful movements
touched with pride,
a calming presence
by our side.
 A friendship
that will last and grow,
small wonder
why we love them so.
—Author Unknown
One Comment on "Vashti Needs a Home!"
Kristin October 18, 2013 pm31 6:20 pm .

Wonderful news! Your beautiful postings about Vashti had results! We're taking her to a new home with an elderly cat-lover who is currently cat-free tomorrow! Her daughter saw Vashti on the BCC posting and they contacted us right away! THANK YOU!