We All Are Agents of Change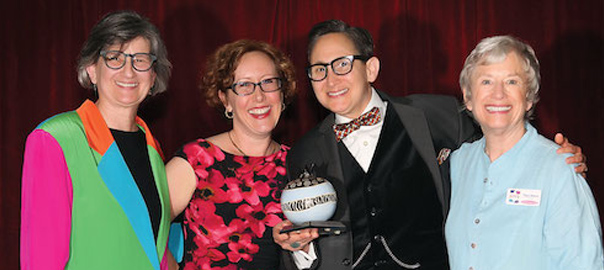 Award-winning writer, filmmaker and educator Zsa Zsa Gershick and her wife, Bet Tzedek Legal Services vice president and general counsel Elissa Barrett, together were given the Harriet Perl Tzedek Award at the BCC Awards Brunch. Read about it in the Jewish Journal, and read their acceptance speech below!
Excerpted from remarks given at the Humanitarian Awards Brunch, April 27, 2014.
Zsa Zsa Gershick and Elissa Barrett
Z: Thank you Tracy and Lisa for that gorgeous introduction. Thank you Tamara Kline for your amazing musical tribute. And thank you BCC for this tremendous honor.
E: We like the words "thank you." We say them, intentionally and often, for there is so much to be thankful for. We give thanks each day to God for every good thing in our lives.
Z: In fact, we like to give each other formal appreciations daily. They go like this: "Elissa, I'd like to thank you for being loving while I checked the stove ten times before we left the house this morning and for being kind when we returned because I wanted to make sure I'd locked the back door and also (pause) I needed my inhaler."
E: When we first got the call from Rabbi Lisa and Felicia, we were surprised and touched. God gave us gifts to use. If we've used those gifts in some small way, we are glad. In fact, we were happy! But we are not exceptional. And there is more to do. Always more.
Z: Sometimes in that space between awakening and my morning meditation, I think, "Oh my God. There is so much to do. Where can I start?" And then I pray. Sometimes we pray together: We thank G-d for our marriage; our home; for all of our creatures; for being placed on Earth in this city, in this time, as Queer Jews.
We ask that G-d grant humanity a spiritual awakening, that we become good stewards of the Earth rather than unconscious despoilers of this great creation.
E: We all are agents of change. Everyone's contribution is important: Big or small, G-d loves it all. Miriam, Moses and Aaron grabbed the headlines, but all of the Israelites had to walk out of Egypt together. It wasn't Homer Plessy or Martin Luther King or Rosa Parks individually who won civil rights: It was all of them – and everyone in between making decisions and taking
actions on a daily basis. A movement is made up of thousands and thousands of people. Harriet Tubman and Caesar Chavez didn't work alone. And Harvey Milk wasn't a solo act.
Z: Take the AIDS Memorial Quilt: 48,000 individual memorial panels weighing an estimated 54 tons. It took many hands to create that tapestry, people uniting to make something meaningful. They were all in it together. That's what BCC is about. And that's what Harriet Perl was about.
Drashing at BCC on her 80th birthday, Miss Perl said: "The saddest fate that can curse you in old age is to look back amid so many unfinished struggles and have to say 'I didn't care. I wasn't involved. I didn't join.'"
"The best fate," she said, "is to be able to wear your scars proudly, to know you did something good, that you stood up for more than yourself."
E: Harriet said, "The important battles are still [here] to be fought. Don't assume that it is now really safe to be [queer] or Jewish or a woman or a person of color or to have unconventional beliefs. Prepare now to be able to say at 70 or 80 or more, 'I tried. I stood up. I raised a ruckus.'"
Z: When Elissa arrived at Bet Tzedek in 2002 as director of the Housing Conditions Project, she raised a ruckus. She worked on the twin issues of slum housing and lack of affordable housing. These are big problems in LA and go hand in hand. To find affordable housing, many working families, immigrants and elders are forced to live in slums. In slum housing the plumbing is bad. You have leaks, burst pipes and mold. And where you have leaking pipes and mold, you often have roaches and other insects that thrive in a moist environment. The leaking pipes also lead to a weakened infrastructure. Ceilings cave in. Floors collapse.
In the buildings where Elissa was most successful at fighting slumlords and raising a ruckus, there was always a strong community of people willing to stand up for themselves and for each other. The leaders in these buildings, often women, had formed close ties: They'd cared for each other's children, looked in on elders, shared food when someone was hungry. They were
their neighbor's keepers.
Elissa led the charge, but there were a lot of other people involved. There were tenant organizers who educated tenants about their rights and encouraged them to stand up for themselves. There were the housing inspectors who investigated the properties and issued citations; the judges who heard the cases and evaluated the strength of the tenants' allegations; and the taxpayers who kept the courtrooms open. There were the pro bono attorneys who served as co-counsel; the law students and volunteers who collected evidence and did legal research; the paralegals, the secretaries; and the board members and donors whose gifts sustained the work.
The more you zoom out, the more people you see are involved, a whole eco-system of justice. And it takes everyone pulling and pushing together. This web of people, working shoulder to shoulder to achieve justice, has been present in every project that Elissa has helmed, from the Holocaust Survivors Justice Network to the creation of Bend the Arc, and the California Consumer Justice Coalition.
We all are agents of change.
E: Zsa Zsa wrote her short film, Door Prize, after an incident at Paty's diner in Toluca Lake. We had just been seated when she excused herself to wash her hands. Cleanliness is, after all, next to Godliness. Both bathrooms – the men's and the women's – were occupied, so she decided to wait. When a woman standing nearby let Zsa Zsa know that she was the strangest thing she had ever seen, Zsa Zsa decided to make the woman her new best friend. Sometimes tzedek happens when you're waiting to pee.
Since its premiere at Outfest in 2009, Door Prize has played in more than 100 film festivals around the world and is used by Keshet and the Anti-Defamation League in transgender inclusiveness trainings. It's been smuggled into Jakarta and has had multiple tours of Latin America.
After its most recent screening at the Reconstructionist Rabbinical College, Rabbi Dev wrote: "[Door Prize] touched everyone. … It was such a blessing to laugh together and to learn from the generosity of your film!" But Zsa Zsa didn't create Door Prize alone. A whole creative community came together to make it happen, including the sublime Beth Grant, the splendid Tamara Kline, the marvelous Connie Franko and Michi Broussard.
From the restaurant owner who gave us his space, to the volunteer production assistant who parked the cars, and the pro bono editor who delivered our picture as surely as a midwife delivers a child, it took a shtetl.
This web of people, working shoulder to shoulder on such projects as Gay Old Girls and Bluebonnet Court, has helped Zsa Zsa realize her mission statement: To educate, uplift, entertain and inspire, particularly illuminating the lives of LGBT people whose have been hidden from history.
I believe deeply in this mission statement, and I am proud to have been a part of that web on so many of her projects. We all are agents of change.
Z: One other thing Judy Glass has always said: "If you're going to dedicate your life to doing justice work, remember: It's a marathon, not a sprint." Meaning, pace yourself. Live a little. Every project is not a suicide mission. All work and no play makes do-gooders very grim. But at BCC we are not a glum lot. We do good work in the world and have a great time while we're at it.
E: We are so very proud to be a part of you. We are grateful for all of you. And we are grateful to have each other. (Even though we almost killed each other while writing this speech.)
Z: But that's the way art – and justice – go: They are a mixture of struggle and joy!
E: I guess my grandfather Harry had it right. "What there is in life," he'd say, "is to find someone you love, dance with her, and leave the place better than you found it."
Harry, who was born in 1908, also said that there were two things he never thought he'd do: Watch a man walk on the moon … and dance at his gay granddaughter's wedding.
Z: But that's a story for another day. We thank you. And we love you.