Weekend Activities at BCC: April 25-27, 2014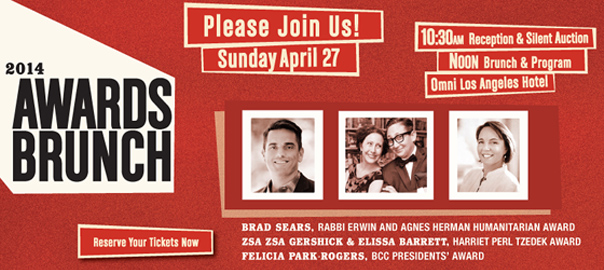 Friday, April 25 at 8pm: Ruach Chayim Shabbat Services. Our monthly musical service is led by Rabbi Lisa Edwards & Cantor Juval Porat, with  special guest percussionist, TJ Troy. Please join us in the palace of peace.
For our friends outside Los Angeles: Friday Shabbat Services will be live streamed. After services join us for Oneg refreshments. Click the "Worship" tab above, on the roll down menu choose "BCC Live Video & Audio" to view the stream. Find out how you can participate in the service from your computer at home!

Saturday, April 26 at 10am: Ohr Chayim. All families with children and toddlers (regardless of whether or not you are enrolled in Ohr Chayim) are invited to join us for Shabbat Services.  If you are not enrolled, please let the Director of Education know if you plan on attending, the group wants to make sure they have supplies ready for all age groups.
Sunday: The Annual BCC Awards Brunch. The BCC Awards Brunch recognizes and honors people who have demonstrated extraordinary community leadership and made significant contributions toward tikkun olam, repair of the world. BCC values the opportunity to honor such leaders, whether in our own congregation or from the community at large. Funds raised by the BCC Awards Brunch are crucial to sustaining our synagogue's vibrancy and to furthering our bridge-building between the broader Jewish and LGBT communities. Read more
LOCATION:  This year the BCC Awards Brunch takes place at The Omni Hotel Los Angeles at California Plaza, 251 S Olive St, Los Angeles, CA 90012
Check out this year's silent auction catalogue
ONE week left to register for Southern California Jewish LGBT Family Retreat at Camp Shalom in Malibu