Weekend Activities at BCC: December 6-8 / 2013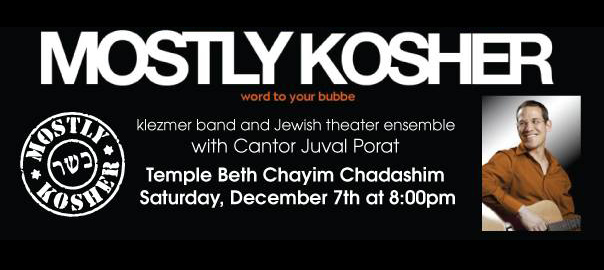 Friday, December 6, at 8pm: Shabbat Services led by Rabbi Lisa Edwards & Cantor Juval Porat.  Join the BCC family for another welcoming of Shabbat. A night of many blessings, sacred prayers and wonderful music. A special oneg is being sponsored by Linda Moakes & Helen Cohen in honor of their marriage. Also sponsoring the oneg is our annual bar mitzvah anniversary sponsor, Murray Aronson-this makes his 54th!
For our friends outside Los Angeles: Friday Shabbat Services at 8pm will be live streamed. After services join us for Oneg refreshments. Click the "Worship" tab above, on the roll down menu choose "BCC Live Video & Audio" to view the stream. Find out how you can participate in the service from your computer at home!
Saturday, December 7, 10am-12:30pm:  Ohr Chayim BCC families meet for children's program of Jewish learning. For children of all ages. Email Leah Zimmerman, Director of Education for details at Leah@bcc-la.org. Next Ohr Chayim is December 14.
Saturday, December 7 at 8pm: Mostly Kosher Klezmer Band and Jewish Theater Ensemble with Cantor Juval Porat!! From their standing-room-only performance at the Orange County Yiddish Festival, to their exuberant performances at the Skirball Cultural Center and the John Anson Ford Theater, Mostly Kosher is taking the Jewish music world by storm. Story-telling, jokes, schtick & music in the Jewish tradition– Fun for the whole family!!
Sunday, December 8, Project Chicken Soup. Prepare meals and deliver to clients of the Los Angeles Jewish AIDS Services. Join in at 7:45am to cook or at 11:30am to deliver. Contact Cathryn at 310.836 5402 to volunteer. This is a great place to meet mentches!