Weekend Activities at BCC: May 2-4, 2014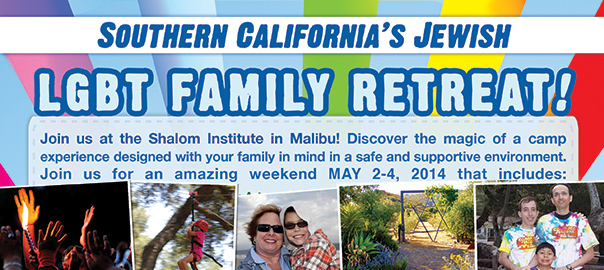 Friday, May 2 at 8pm:  Shabbat Service observing Holocaust Memorial Day with Richard Seltzer and Cantor Juval Porat, 8pm.
For our friends outside Los Angeles: Friday Shabbat Services will be live streamed. After services join us for Oneg refreshments. Click the "Worship" tab above, on the roll down menu choose "BCC Live Video & Audio" to view the stream. Find out how you can participate in the service from your computer at home!
Saturday, May 3 at , 10am: Ohr Chayim. All families with children and toddlers (regardless of whether or not you are enrolled in Ohr Chayim) are invited to join us for Shabbat Services. If you are not enrolled, please let the Director of Education know if you plan on attending, the group wants to make sure they have supplies ready for all age groups.
THIS SATURDAY–Become a Mom! Read How Here
Sunday, May 4, Project Chicken Soup. Preparing Kosher meals and delivering to clients with HIV/AIDS, cancer and other serious illnesses: 7:45am to cook; 11:30am to deliver meals. Contact Cathryn @ (310) 836-5402 to volunteer and directions. Great place to be a mensch and meet other mensches. Take social action now!
Happy Cinco De Mayo! Sunday, May 4, 12pm to 4pm: 20s/30s Cinco de Mayo BBQ/Potluck at Newport Beach  This year the 20s/30s Havurah adds a Brazilian BBQ edge to the celebration of Cinco de Mayo. Join BCC friends for fun at the seashore at Newport Beach. Bring a potluck dish. For more info email the 20s/30s Havurah co-chair, Fernando . We hope to see you there!
Sunday, May 4th, 4pm -6pm: An Afternoon of Ideas and Dialogue with Yossi Klein Halevi. The Shalom Hartman Institute of North America together with the Jewish Federation of Greater L.A. and the Board of Rabbis of Southern California are sponsoring a discussion with Yossi Klein Halevi on the future of Judaism in Israel and implications for American Jewry. Location: University Synagogue (11960 Sunset Bl., L.A., 90049). Click here for more information 
Sunday, May 4, Women's Havurah LACMA Galleries & Concert. Join the women of BCC and our women friends for a late afternoon of art, music, fun and friendship. Meet at LACMA's (5905 Wilshire Bl., just east of Fairfax Av.) main patio ticket booth and walk the galleries from 4-5:30pm. Then stay for a concert of chamber music in the Bing Theatre from 6-7pm. RSVP to Sylviaweisenberg@yahoo.com. LACMA members have free admission, otherwise museum entrance is $15. The concert is free for everyone. More info here LACMA Read more on this event!