Weekly Torah Portion: Balak (Numbers 22:2-25:9)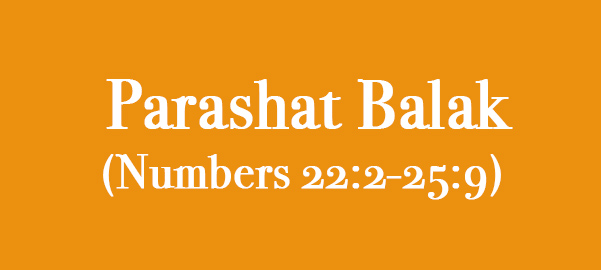 In this week's Torah portion, the king of Moab, asks Balaam to curse the Israelites after he sees them defeat various nations in battle. Balaam's donkey sees an angel of God and refuses to move any further. Balaam hits the donkey. God speaks through the mouth of the donkey to tell him not to curse the Israelites. Instead of cursing the Israelites, Balaam blesses them. Read an extensive summary on My Jewish Learning
Related D'var Torah
"Can it be that God has a sense of humor? A Yiddish proverb wisecracks, "man tracht und Gott lacht" Man plans and God laughs, suggesting that God does have a sense of humor , but for the yiddish proverb God seems to prefer irony. We'll find irony in our Torah portion but also crazy surrealistic humor – – think Marx Brothers or Monte Python. Think cartoons." – Rabbi Rachel Adler in 2011. Read the full drash
"We just completed a month of Pride, celebrating our liberation; yet, we are still a people prone to think less of ourselves for our differences." – Haim Ainsworth in 2001. Read the full drash
Torah Verse of the Week*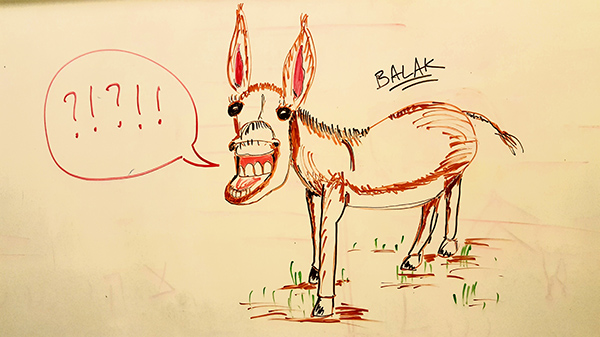 "The she donkey said to Balaam, 'Look, I am the donkey that you have you been riding all along until this day!
Have I been in the habit of doing thus to you?' And Balaam answered, 'No.'" (Numbers 22:30, Parashat Balak)
Haftarah verse of the week
It has been told you, O mortal, what is good,
what the Eternal seeks of you —
Only this: to do justly,
and love kindness,
and walk humbly with your God. (Micah 6:8)
Other Suggested Readings
"When are the times in life that we are beating a donkey that won't move? When are we frustrated trying to make something happen and no matter what we do to influence events, it still doesn't happen?… What if we need only to uncover our eyes, and see that there are more possibilities, more ways of imagining the problem and its solution?" – Leah Zimmerman in Experiencing Torah. Read here
Rabbi Lisa Edwards asks the question "How would a donkey read the Bible?" in her URJ commentary on Balak, 'What are You Looking At But Not Seeing?' read the article
Balak, The Movie: BCC Member Bracha Yael thinks that this week's torah portion would make a fabulous movie. It's got it all, tragedy, comedy, a talking donkey, a sword wielding angel and the greatest director of all time, God. read the article
The latest commentary by Rabbi Lisa about Book of Numbers (B'midbar) titled "What Are You Looking at But Not Seeing". It refers to Balak. Click here to listen to the commentary. 
_________________________________
*Torah Verse of the Week is chosen by the Torah class during Tuesdays' studies with Rabbi Lisa Edwards. Check out when our next Torah Study takes place
One Comment on "Weekly Torah Portion: Balak (Numbers 22:2-25:9)"
Aviyah Farkas July 22, 2016 pm31 4:56 pm .

We are SO BLESSED to have Davi and her fantastic artistic abilities!
Thank you Davi!
Thank you Rabbi Lisa for doing Torah Study!