What Happens at BCC Awards Brunch?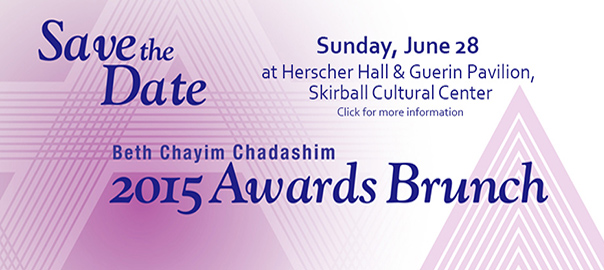 This year marks the 30th anniversary of a dinner at which BCC gave its first congregational award to Dr. Joel Weisman and the UCLA AIDS Research Center. It is a sign of our growth as a community that we now present three awards each year at an awards brunch in an elegant venue. At this highlight of each congregational year, BCC honors three individuals (or couples or organizations) who exemplify the values of our community, within the congregation or in the world at large.
Receiving this year's Rabbi Erwin and Agnes Herman Humanitarian Award is the amazing stage, film, and television actor Jeffrey Tambor, who stars as Maura Pfefferman in the Amazon Prime show "Transparent." Maura spent her life as family patriarch Mort, and when she reintroduces herself to her family, everyone's secrets finally start to come out.
Tambor's unforgettable roles in "The Larry Sanders Show" and "Arrested Development" reveal his unique comedic gifts, while his roles in films such as "And Justice for All" and "Meet Joe Black" display the depth of his dramatic sensibilities. Tambor is deeply respected as one of the most versatile and accomplished character actors in film and television. Both Tambor and the show "Transparent" recently won Golden Globe awards. Tambor is also a recipient of two Screen Actors Guild awards and is a sixtime Emmy nominee.
To help us get in the mood, the BCC Film Club will be screening three episodes of "Transparent" on Saturday evening, May 16. See page 8 for further information.
This year's Harriet Perl Tzedek Award goes to BCC members Sylvia Sukop and Bonnie Kaplan for their exemplary work in the arts and for social justice. Bonnie is a longtime teacher of adults in the California corrections system. She currently runs the school in the E.P.I.C. Program, a transitional housing and drug rehabilitation program at the Weingart Center on Downtown L.A.'s Skid Row, which prepares parolees for re-entry into
the community. She is also a poet, and her works are published in journals and anthologies including Adrienne Rich: A Tribute Anthology. Bonnie and
Sylvia co-organized a recent BCC evening in honor of lesbian poet and essayist Adrienne Rich. Sylvia works as editorial director at Art Center College of Design and is a nonfiction writer and photographer, founder of the community art project Boulevard Without Borders, and volunteer tutor for college scholarship recipients through the Posse Foundation. This spring, Sylvia's essay "Pioneers on the Frontier of Faith," exploring how MCC and BCC in the late 1960s and early 1970s helped ignite the movement for LGBT inclusion and equality in mainstream religion, will be published in the anthology LAtitudes: An Angeleno's Atlas (Heyday Press, 2015).
The highly deserving recipient of BCC's President's Award this year is Bruce Maxwell. A member of the BCC community for over 22 years, Bruce is a past BCC president and treasurer and long time member of our Board of Directors. He helped bring to BCC our remarkable Cantor Juval Porat, the first Reform cantor trained in postwar Germany, and played an integral role in the acquisition, design, and renovation of our new synagogue building, dedicated in 2011. With his mentschlichkeit and wisdom, gentle touch, respect for others, team-building skills, and sense of humor, Bruce helps keep us in the moment even as we plan for our future.
As if his many contributions to BCC weren't enough, Bruce serves on the board of A Wider Bridge, an organization linking North American and Israeli LGBTQ communities and their leaders. He has traveled to Israel with the organization multiple times, and was invited to celebrate Chanukah at the White House in 2014. As a member of the board of L.A.'s Gay and Lesbian Elder Housing, Bruce was involved in raising funds and overseeing construction of the first-ever affordable housing for the LGBTQ senior community. Bruce has also served as a leader and fundraiser for the Anti-Defamation League, City of Hope, the Jewish Federation Council, USC Lambda Alumni Association, and the Association of Reform Zionists of America.
What Happens at the Awards Brunch?
First, you will enjoy browsing (and bidding!) at the fantastic Silent Auction with coffee, mimosas, and friends both new and old. You'll soon begin the sumptuous Awards Brunch at your convivial table, as the program begins with a new film by BCC member Adam Kulbersh. Adam brings us this year's
famously funny emcee, Stephen Guarino (who plays Derrick on ABC's "Happy Ending" and is a regular on Rosie O'Donnell's "The Big Sketch Show"). BCC's inspiring awardees will be introduced by favorites Allison Diamant and Yuval David; Cantor Juval Porat and Tamara Klein will have some surprise entertainment for us; and Jeffrey Tambor will be introduced by "Transparent" co-stars Judith Light and Amy Landecker. Who could ask for anything more?
How can I support the vision and the programs of BCC?
Our Awards Brunch offers many ways for you to support BCC's vision and community. Whether offering your congratulations via an ad in the tribute book, purchasing tickets to the brunch at levels ranging from general seating up to Diamond Sponsorship (which includes prime table seating for 10, multiple-page tribute program advertising space, and your message in multiple online locations), or purchasing a fun item at the Silent Auction, every dollar you help us raise goes toward our ongoing programming and community outreach. BCC offers opportunities for everyone to support BCC regardless of their circumstances.
So invite your friends and family to join us for a wonderful celebration of our honorees and our BCC community this coming June 28. Please keep an eye on your mailbox for your invitation to this year's Awards Brunch, which will take place at the Skirball Cultural Center's new Herscher Hall, located within the beautiful Guerin Pavilion. And watch the BCC website for ticketing availability!
Here are the details:
Sunday, June 28, 2015
Silent Auction begins at 10:30 am
Brunch Program begins at 12:00 noon
Skirball Cultural Center's Herscher Hall
2701 N. Sepulveda Blvd.
Los Angeles, CA 90049
For more details and to purchase tickets click here