Where Will You Finally Rest? Special Opportunities for BCC Members
Sunday, May 7, 2017, 3:30 pm – 5:30 pm
at Beth Chayim Chadashim
6090 W. Pico Blvd, Los Angeles 90035
BCC is blessed to have not one, but two local Jewish cemeteries offer our members, family, and friends a special discounted price for complete
cemetery and mortuary services. Details of this special offer will be presented by:
Wayne Arak from Home of Peace Memorial Park and Mortuary
and
Moe Goldsman from Sholom Chapels Memorial Park and Mortuary
We invite you to attend to learn about each place of rest, how you can benefit from the special offers, and how to sign up for a pre-need package.
This is a free event. Please RSVP to Aviyah. If you cannot attend, but want information, please contact Aviyah.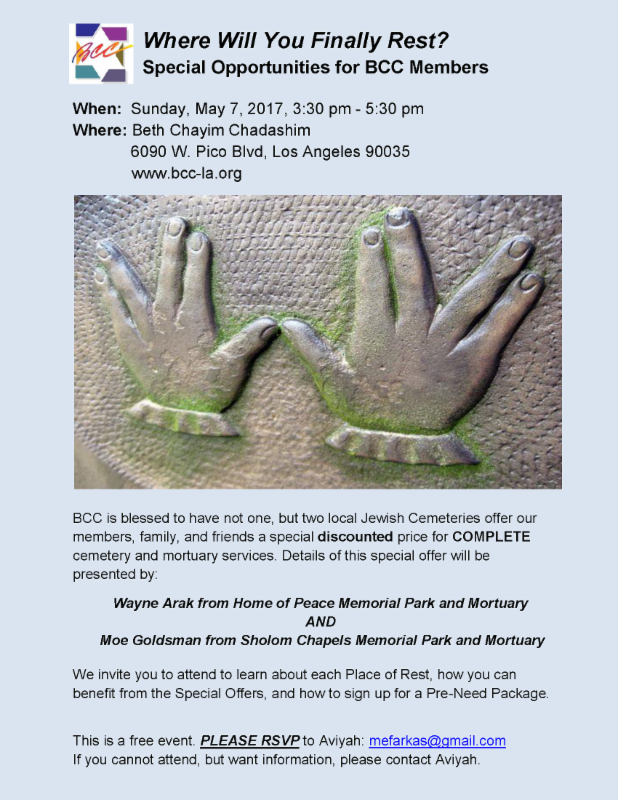 One Comment on "Where Will You Finally Rest? Special Opportunities for BCC Members"
Joy July 1, 2017 pm31 11:53 pm .

Shalom,
Please send me all the financial info for full burial at both of the two locations. thank you.
joy