Women's Havurah: Afternoon Game
BCC's Women's Havurah plans an afternoon of board games, food and fun at the private home of a new member.
When: Sunday, March 3rd at 3pm. Where: Pico/Doheny area
Just like our evening game nights we'll have plenty of games to choose from:
Taboo, Apples to Apples, Cranium, Pictionary, Banana grams and more.
Don't miss the chance to play THE RAINBOW GAY GAYME complete with the Group Grope category and naked women on the game board!
Sunday , March 3 at 3pm.  Our hostess lives near Pico and Doheny, with plenty of free street parking.
Please bring a snack or fun food item to share. OK to bring a friend or two. Free for everyone!
RSVP to sylviaweisenberg@yahoo.com, you'll get the full address of the event then.
The Rainbow Gay Game is Fun.
It'a all about learning more about the myth, magic and lore of our gay culture.
Begin the gayme by coming out of the closet. Follow a path of rainbow-colored stepping stones….
Each stepping stone color represents a different type of play:
Orange – She Said / He Said – Famous Quotes (check out our famous quote cheat-sheet below the photo)
Purple – A Matter of Choice – Guess the Right Answer
Red – Picture This – Draw the Item Named on the Card
Yellow – Act Out – Pantomime Item Shown on Card
Blue – Group Grope – How You Would Respond to Situations
Rainbow – Player's Choice – Choose any Category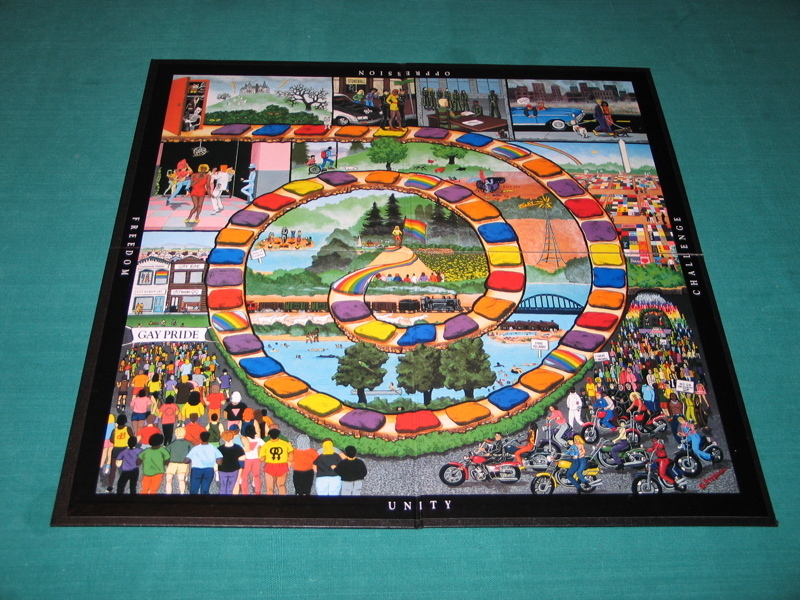 She Said / He Said – Famous Quotes Cheat Sheet

"Me and Angelina [Jolie] won't be getting married until everyone in the United States has a right to get married." (Brad Pitt, 2011)
"I wanna thank all of you, I wanna say I love you, see you next year in ISRAEL." (Dana International, 1998)
"Be who you are and say what you feel, because those who mind don't matter and those who matter don't mind." (Dr. Seuss)
"Bisexuality immediately doubles your chances for a date on Saturday night." (Woody Allen)
"Gay humor is the smartest humor in the world. And gay audiences make a show. If I look out in an audience and there are six gay men in the front row, I know we're going to have fun tonight." (Joan Rivers, 2012)
Got more? Message us on Facebook, or tweet us @BCC1972 using #AfternoonGame