Yom HaShoah Commemoration: Sunday, May 1st 2016
BCC members are invited to attend the community-wide Yom HaShoah commemoration on Sunday, May 1 at Pan Pacific Park at 2 p.m.
This year's event includes a special exhibit that opens May 1 and continues through May 9 at the L.A. Museum of the Holocaust featuring Holocaust Survivor Torah Scrolls being cared for by congregations in Southern California. BCC's own precious survivor scroll, which comes from Chotěboř, located southeast of Prague in today's Czech Republic–a town whose last Jewish residents were deported in 1942–will be part of the exhibit.
Our scroll is also featured in an audio guide recording, narrated by Rabbi Lisa Edwards, about our scroll's history and integration into the ritual life of BCC, and our friendship with Olga Grilli, a survivor from the same town rescued when she was 11 by Sir Nicholas Winton's Kindertransport.
The museum is open 10 a.m. to 5 p.m. daily except Friday when it closes at 2 p.m. For more info visit LAMOTH.org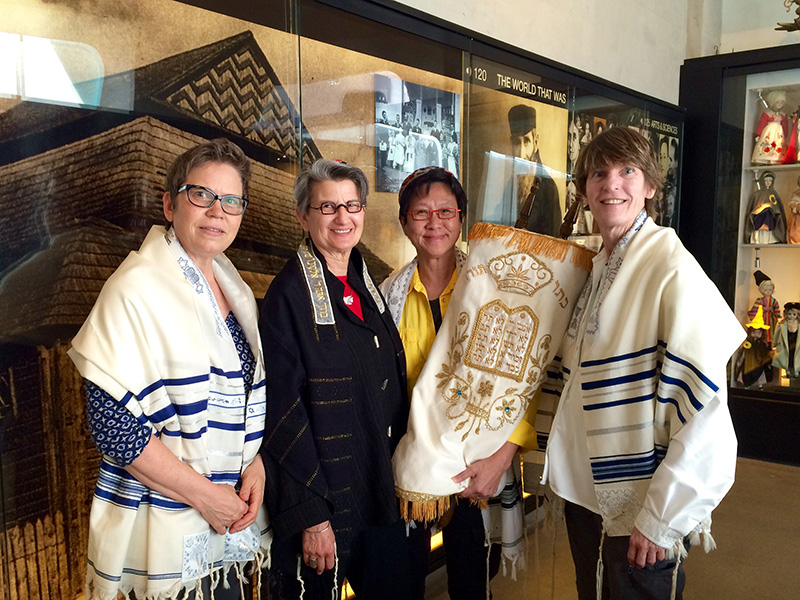 This photo taken Sun 4/17/16 inside the LA Museum of the Holocaust main exhibition, in the section "The World That Was," when Rabbi Lisa Edwards, alongside BCC members Sylvia, Davi and Bracha, dropped off BCC's Holocaust survivor scroll for the upcoming exhibit.